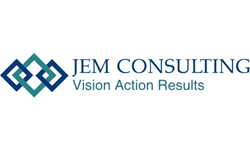 "Our goal is to help organizations develop their strategy and alignment between sales and marketing to be able to successfully apply the training and best practices taught by Sales for Life," - Jen McClure, CEO, JEM Consulting, LLC
PALO ALTO, CALIF. & TORONTO, ONT. (PRWEB) December 07, 2015
Sales for Life, the world's authority on social selling, and JEM Consulting, LLC, a firm dedicated to helping organizations gain competitive advantage through the use of digital and social media, announced a partnership today to enable organizations to use social selling practices, tools and technologies effectively with best practices.
JEM Consulting's services include digital strategy and transformation programs; Digital Centers of Excellence; digital marketing and sales programs brought to life through web, mobile, social, and ecommerce, online community initiatives and employee advocacy and brand ambassador programs. Sales for Life provides training and certification programs specifically designed to help organizations develop sales and marketing integration. The training programs entail two components: sales teams use social media to find, educate, engage, and develop client opportunities. In parallel, digital marketers develop an insights factory and gain greater efficiencies in their creation, organization, distribution and engagement of digital assets through the sales organization.
Through their partnership, JEM Consulting will work with organizations' sales and marketing leadership teams to conduct social media audits, develop social selling and aligned digital marketing and social media strategies, provide counsel on digital and social media tools and technologies, and will provide training and certification program management, administration and measurement, as well as the development of a Social Selling Resource Center. Sales for Life will provide its world-class social selling training and certification program to the organizations' sales and marketing professionals, enabling them to use social selling effectively and with best practices for bottom line impact.
"Whether B2B sales and marketing organizations like it or not, the buyer is learning with or without interaction with vendors. Commercial leaders must decide to prepare their teams to help shape the buyer journey early with insights-based selling, or sit on the sidelines and watch their competitors take mind and market share," said Jamie Shanks, co-founder and CEO of Sales for Life.
"Social selling can transform the customer experience and take relationships from transactional to strategic. This requires new skills and a new kind of partnership and coordination between sales and marketing," added Jen McClure, CEO, JEM Consulting. "Our goal is to help organizations develop their strategy and alignment between sales and marketing to be able to successfully apply the training and best practices taught by Sales for Life, combined with the right tools and technologies, to achieve this transformation."
"We engaged Sales for Life to train our go-to-market members on the nuances of social selling because we recognized that people are buying differently today. Gone are the days when buyers first call a sales executive to learn about a product or service. Buyers today first reach out to their social and professional networks to begin their buying journey," said Tony Magro, senior managing director, Evercore. "The impact of social selling on sales performance is undeniable. Our team increased opportunities at the top of their sales final, shortened sales cycles, and increased the percentage of sales reps that hit quota. As important as the effect that the training program had on our attainment is the effect it had on our team's enthusiasm. They loved it. Team morale was boosted as they realized that the company had made a direct investment in the professional development. They have become highly effective brand ambassadors as a result of this program."
About Sales for Life
Sales for Life launched its Social Selling Mastery program with one goal – to become the world standard for social and digital selling best practices. Today, with Version 3.0 of this training and certification program, Sales for Life is the largest social selling training organization, training more than 60,000 sales and marketing professionals around the world, from start-ups to Fortune 500 corporations. http://salesforlife.com
About JEM Consulting, LLC
JEM Consulting is a Silicon Valley-based consultancy dedicated to helping organizations gain competitive advantage through the use of digital technologies. JEM works with its clients to define a vision with aligned goals and strategy, design and execute successful systems, programs and technologies, maximize skills and capabilities and evaluate and measure results. http://jem.consulting