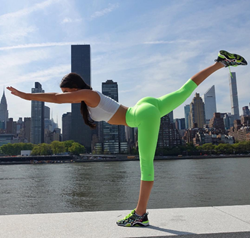 By all metrics, Jen's social media with a reach of millions including women aged 15-30, is the premier fitness destination on social media. - Evan Morgenstein
New York, NY (PRWEB) June 30, 2016
Instagram celeb and social media expert Jen Selter, who is universally known as the top health & fitness influencer on social media, organized a free 30-day fitness challenge that lasted throughout the month of May. Selter's motivation was to engage teens and women to take a journey with her discussing lifestyle, fitness and eating choices in a positive and constructive forum through Facebook, Instagram, Twitter and SnapChat.
In just 36 hours, Selter amassed over 30,000 women's email addresses and for the month she accrued 6,000+ user generated videos and still images from her followers associated with what they were doing during the fitness challenge to make a difference in their life.
Over the course of 30 days, Selter shared unique workout routines each week to help fitness enthusiasts of all levels build a steady confidence and momentum while they set out on their own life altering journey. Participants were encouraged to share pictures and videos of their own workout routines, healthy meals, new gym wear and other positive lifestyle choices to Instagram using the hashtag #JenSelterChallenge. Each week, winners were chosen based on their shares and given special prize packs including Jen Selter's favorite workout gear and health & fitness products.
"Making the choice to live a healthier lifestyle every day has given me the confidence to achieve the goals I've set in my own life," said Selter. "The 30-day challenge and prize giveaway was a way to reward anyone willing to make the effort to do something good for their body."
The purpose of this challenge was not only to motivate others towards a healthier lifestyle, but more importantly to bring together participants in Selter's online community to act as a support system for one another while striving to maintain their drive to eat healthy and exercise regularly. Each day, Selter took time to encourage the many participants by liking and commenting on their photos and even reached out to a number of them directly via phone call to support them in their new journey.
Premier Management Group CEO Evan Morgenstein views this challenge as a huge affirmation of Jen's relevancy in the marketplace, "I don't ever remember working with any Fortune 100 company that attracted 30,000+ email addresses asking for more information in 36 hours or creating 6,000+ user generated videos and pictures in 30 days. By all metrics, Jen's social media with a reach of millions including women aged 15-30, is the premier fitness destination on social media."
To work with Jen Selter, please contact Evan Morgenstein at evan(at)pmgsports(dot)com or call (919)459-5426. For media inquiries please contact Matt Uberseder at matt(at)pmgsports(dot)com or call (919)459-5428.
About Premier Management Group (PMG Sports)
Premier Management Group is an elite sports marketing agency with a goal to create a space in the industry that is completely unique through superior creativity and innovation. PMG Sports has set out to provide each of its clients with the same level of professional representation and service. Additionally, PMG Sports is an industry leader in providing corporate consulting services and treats each client, whether an athlete or corporation, with an added personal touch. For more information, visit our website at http://www.pmgsports.com.