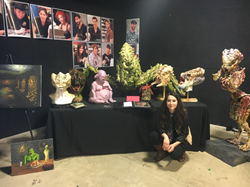 "It's my goal to work on projects making monsters in the special effects industry. Being surrounded by other passionate and creative industry experts is inspiring and pushes me to grow."
Newport, PA (PRWEB) June 17, 2017
Jennifer Holleran, a 2013 graduate of the Associates in Fine Arts program at Harrisburg Area Community College, recently completed her training at the Tom Savini Special Make-up Effects Program in Pittsburgh. Holleran graduated from Newport High School in Newport, PA in 2011.
Founded by the film industry legend associated with Dawn of the Dead and Friday the 13th, the Tom Savini Special Make-up Effects Program at the Douglas Education Center teaches students about make-up for films, special effects, molding prosthetic limbs, sculpture techniques, and more.
With years of experience in painting, Holleran was relatively new to the world of sculpting when she began the makeup effects program in 2016, but walked away with two major awards during graduation week.
The May Student Spotlight Award went to Holleran, given to one student who exemplifies excellent work. The program's technical director, Jerry Gergely, said of Holleran, "I call her the sleeping giant because she was really under the radar but she brought me her portfolio and it's awesome. She is a great creature designer who has a real eye for design and color."
At the graduation ceremony on May 25th, Holleran also picked up the Who's Who Award, an honor selected by the faculty for an outstanding student who has participated in various school events.
Holleran received multiple offers on her art at the graduation portfolio review to launch her career as a freelance artist and is now available for custom art, creature designs, and more.
The Tom Savini Special Make-up Effects Program graduates have made a name for themselves in the film industry and on television. The program is home to two winners of the SyFy Channel's FaceOff program, with Nora Hewitt taking the top prize in Season 9 and Cig Neutron claiming the win for the eleventh season's All-Stars feature. More than 25 Tom Savini program graduates have been on FaceOff in the eleven-season run of the television show.
As a leading institute for special effects art education, graduates of the program can also be found working for ADI Legacy Effects, Alliance Studios, Quantum Creation Effects, Universal Studios Halloween Horror Nights, Immortal Masks, Burman Industries, MTV/BET, the Smithsonian Institute, and McFarlane Toys.
For more information about the school, please visit http://www.dec.edu/ts/