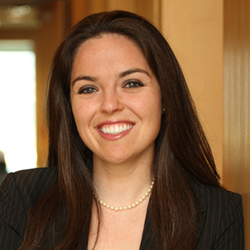 Her talent, hard work and dedication to providing superior client service make Jenna a valuable leader within our firm. She has truly earned this distinction
San Diego, CA (PRWEB) February 28, 2014
Pettit Kohn Ingrassia & Lutz PC, a prominent civil litigation firm headquartered in San Diego, is pleased to announce that Jenna Leyton-Jones has become a Shareholder of the firm. Jenna joined Pettit Kohn as an associate of the Employment & Labor practice group in 2008.
"Jenna is a gifted attorney who has earned the respect of clients, teammates, and opposing counsel. Her talent, hard work and dedication to providing superior client service make Jenna a valuable leader within our firm. She has truly earned this distinction," said Tom Ingrassia, co-chair of Pettit Kohn's Employment & Labor practice group.
Jenna has an extensive background handling all aspects of employment litigation, including the defense of claims involving retaliation, discrimination, harassment, wrongful termination, wage and hour disputes, leave and disability issues, and trade secret misappropriation. Jenna routinely lectures on employment law trends and developments at human resource seminars, and currently serves as the Vice President of Legislation for the San Diego Society for Human Resource Management (SD SHRM).
Jenna is also a co-founder the firm's growing Appellate practice group. In 2011, she was honored with The Daily Transcript's Young Attorneys Award.
About Pettit Kohn Ingrassia & Lutz PC
Established in 2006, Pettit Kohn Ingrassia & Lutz PC is dedicated to providing superior legal services in an efficient, client-centric manner. The firm's commitment to handle each case from the client's perspective, incorporating the client's overall business goals and objectives, has generated both extraordinarily positive client relationships and routinely successful results in the courtroom. Pettit Kohn's practice areas include Appellate, Business Litigation, Civil Litigation & Trials, Employment & Labor counseling and litigation defense, Personal Injury, Product Liability, Real Estate, Restaurant & Hospitality, Retail, Transactional & Business Services, and Transportation. The firm's list of clients includes professionals, small to mid-size firms, and Fortune 100 companies. Pettit Kohn is regionally located with offices in San Diego - 11622 El Camino Real, Suite 300, San Diego, CA 92130; (858) 755-8500, and Los Angeles - 9841 Airport Boulevard, Suite 1100, Los Angeles, CA 90045; (310) 649-5772. For more information about Pettit Kohn visit http://www.pettitkohn.com.
###