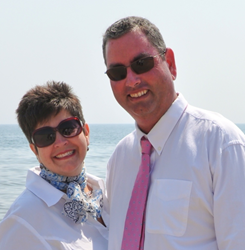 Thank you to all our clients for trusting us to help you achieve your goals.
Rehoboth Beach, DE (PRWEB) September 16, 2015
Jenn and Brian Barrows, Ocean Atlantic Sotheby's International Realty, is featured in a special section of the November issue of Delaware Today as a 2015 Five Star Real Estate Agent award winner.
Five Star Professional partnered with Delaware Today to identify and showcase an exclusive group of real estate agents who have demonstrated excellence in their field. Less than 4% of agents in the Delaware area received this recognition.
"When we started our team, our goal was to be completely client-driven and to create 'clients for life' We are now over 85-percent referral-based, which tells us we are achieving the main goal we set our sights on so many years ago. If we put our clients' needs first, our business would thrive because we've done the right thing for each and every client, day in and day out. I never knew what would be the perfect career for me until I almost fell into real estate. When we moved to the beach full time in 2000, this was what I did after a long career in corporate marketing and immediately I knew, I'd finally 'found it!' That 'it' is what I was meant to do. For me, it's the perfect mix of channeling my artistic side with the marketing of listings and allowing my people driven side to flourish with buyers. I love to listen to clients, hear what they need and find the path forward for them to achieve their goals," says Jenn Barrows, Ocean Atlantic Sotheby's International Realty.
The 2015 Five Star Real Estate Agent award winners have been carefully selected for their commitment to professional excellence and overall client satisfaction. The award is based on rigorous research with significant focus on customer feedback and providing quality services.
"Thank you to all our clients for trusting us to help you achieve your goals. Whether it's to sell a home and trade up (or scale down), or you're buying your first (or second) beach home where you'll be making those special lifetime memories with your family. We love working with both buyers and sellers, and we appreciate each and every one of you!" Jenn says.
"The homebuying and selling process can be very stressful. Five Star Professional works hard to identify those outstanding real estate agents that can make all of the difference. Five Star Real Estate Agents are experienced professionals that get top marks from their clients and get results," says Josh Kimball, VP Marketing, Five Star Professional
Jenn's Five Star award profile can be viewed here and Brian's Five Star award profile can be viewed here.
About the research process:
Now entering its 13th year, Five Star Professional conducts in-depth, market-specific research in more than 45 markets across the United States and Canada to identify premium service professionals.
Five Star Professional contacts thousands of recent homebuyers to identify award candidates. Phone, mail and online respondents rate their real estate agent on 10 satisfaction criteria. Candidates with a qualifying client satisfaction rating move on to be evaluated on objective criteria such as experience, production levels and disciplinary and complaint history.
Real estate agents do not pay a fee to be considered or awarded. For more information, visit http://www.fivestarprofessional.com.