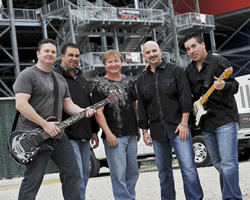 It is truly a great night out, in support of a wonderful cause.
Naperville, IL (PRWEB) February 12, 2015
This is the second year RE/MAX Professionals Select hosts this live musical entertainment event, "Concert for the Kids" with all proceeds from the event being donated to Lurie Children's Hospital in Chicago. This year's event boasts the popular 80's cover band, Hi Infidelity™, food donated by Doggie Diner Restaurant, cocktails, dancing and a wide variety of silent auction prizes.
For six consecutive years, Hi Infidelity was voted as the Best Rock Cover Band, vocalist Dave Mikulskis was voted as Best Vocalist and, in 2010, Bobby Scumaci was voted Best Keyboardist in Suburban NiteLife Magazine's Best of the Burbs contest.
Tickets are $50/person and include admission to the event, food and two drink tickets. Tickets may be purchased at the door or online at Eventbrite. "We are excited to present this fundraiser for our second year. It is truly a great night out, in support of a wonderful cause," said Jen Conte, Broker/Owner.
RE/MAX Professionals Select's location is at 2272 95th Street, Suite 200, Naperville, Illinois 60564. For more information about the event or for buyers and sellers, please call Jen Conte at (630) 408-6400 or Sarah Diana at 630-205-1999.
About NALA™
The NALA is a full-service marketing agency providing custom personalized service for small and medium businesses throughout the United States.
PR Contact: Tiffani Tendell
ttendell(at)thenala(dot)com, 805.650.6121, ext. 361