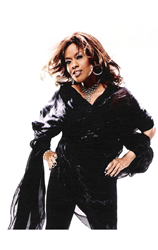 New York, NY (PRWEB) April 22, 2014
April 22, 2014 New York, NY — Grammy Award and Tony Award-winning showstopper
JENNIFER HOLLIDAY—the original Dreamgirl—is scheduled to make a special appearance with the Back To The Eighties Show at (Le) Poisson Rouge in NYC. On Saturday, May 17th, Ms. Holliday will join the fun live on stage with Jessie's Girl—the world's ultimate 80's tribute band—as she performs her signature ballad, "And I Am Telling You I Am Not Going," in addition to several other classic 80's hits alongside the band.
JENNIFER HOLLIDAY is best known for originating the role of Effie White in the 1981 Broadway musical Dreamgirls. This ground-breaking and heart wrenching role earned her the Tony Award for Best Leading Actress in a Musical, a Grammy Award for her recorded version of the song, as well as several Drama Desk and Theater World awards. Ms. Holliday has proved herself resilient over the course of her career and credits her faith for helping battle clinical depression, multiple sclerosis and weight issues. After an absence from the spotlight, Ms. Holliday had resurgence in her career, including a dazzling duet on "American Idol" in 2012 with Finalist, Jessica Sanchez. In January 2014, she released her first, and much-anticipated, full-length album of brand new material in 22 years entitled, "The Song is You."
For over five years, Jessie's Girl has played to packed houses every weekend in what has been dubbed as, "one of the best things to do in New York on a Saturday night" (Time Out New York). This electrifying "Eighties" ensemble has also welcomed an array of 1980's original artists to help celebrate this musically unforgettable decade including: MC Hammer, Bret Michaels, Debbie Gibson, Tiffany and Colin Hay of Men at Work, just to name a few. The band was even tapped to perform at the surprise birthday celebration for Neil Patrick Harris and Academy Award winner Jamie Foxx's private Halloween party. Jessie's Girl is extremely thrilled to share the stage with JENNIFER HOLLIDAY next month.
The performance schedule for JENNIFER HOLLIDAY IN THE BACK TO THE EIGHTIES SHOW WITH JESSIE'S GIRL at (Le) Poisson Rouge (158 Bleecker Street between Thompson & Sullivan) is:
Saturday, May 17th
Doors Open: 11:00pm
Showtime: 11:45pm
Tickets for JENNIFER HOLLIDAY IN THE BACK TO THE EIGHTIES SHOW WITH JESSIE'S GIRL are $20 in advance and can be ordered at http://www.lepoissonrouge.com, or $25 (Cash only) at the door. For VIP tickets and table reservations email info(at)funmusicpresents(dot)com or call 718.858.2229.
ABOUT FUN MUSIC PRESENTS
Marcus Linial is the founder of ML Presents, the parent company to Fun Music Artists and Fun Music Presents. Mr. Linial is also the former owner of many live music venues in NYC including the very popular Shine and Canal Room, which he closed down in 2014 after 15 years of business. His company Fun Music Presents produces two shows a week at (Le) Poisson Rouge (Saved By The Nineties A Party With The Bayside Tigers every Friday Night and Back To The Eighties Show With Jessie's Girl every Saturday Night) with more expected to come. Mr. Linial said, "Having JENNIFER HOLLIDAY is a real 'Dream' come true. My parents took me to see her in Dreamgirls on Broadway back in 1981 and the show still has a special place in my heart after all these years. To have Jennifer on stage with Jessie's Girl is a real honor. I have invited my folks to come witness it. They will be there."
###
Contact Information:
CRISTINA GALEANO
Fun Music Presents
718.858.2229
cristina(at)mlpresents(dot)com