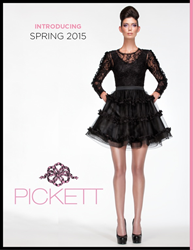 "I have designed this season's collection to represent an elegant side of Spring inspired by the intacracy and detail of European Art."
San Diego, CA (PRWEB) August 25, 2014
August 25,2014 Jennifer Pickett, a high-end fashion designer, is making waves on the fashion scene as an up and coming luxury designer. Set to appear at ENK International Coterie Show in New York City this September, Pickett is thrilled to debut her Spring 2015 collection to prospective buyers and top fashion editors and press alike. As Founder and Creative Director of her namesake label, Jennifer Pickett's vision is to create exquisite fashion for the modern day woman while incorporating a elegant aesthetic.
Her contemporary womenswear brand is luxurious, romantic, and ultra feminine. In combination with distinctive fabrics and silhouettes, her credibility and expertise as a creative force in design is indisputable. Jennifer Pickett, Creative Director further explains, "I have designed this season's collection to represent an elegant side of Spring inspired by the intricacy and detail of European Art." The flirtatious Spring 2015 silhouettes include a variety of a-line and full dresses, box fit single-breasted jackets, lightweight spring coats, and her signature dirndl skirts.
"The Pickett woman has a playful, yet sophisticated style and prefers standing out from the crowd with subtle elegance. For Spring 2015, we have married feminine silhouettes with exquisite fabrics such as spring taffetas, organza, silks, cut out light suedes, chiffon and more to compliment Jennifer's romantic inspiration," expresses Lead Designer, Blaine DeGannes.
Buyers and press can experience the elegance and romanticism of Jennifer Pickett's collection in September at the ENK International Coterie Show in New York City. This Fall, her brand will launch internationally at luxury department store, Harvey Nichols, and in select specialty boutiques throughout the United States. Pickett's goal is to continue expanding her brand and stocking the shelves of more specialty stores across the United States.
About Jennifer Pickett: Debuting in stores, Fall 2014, Pickett is a luxury American womenswear design house built with Southern values. Founder and Creative Director Jennifer Pickett, brings Texas roots and chic style to her namesake label that is designed designed for all women enamored by ladylike luxury, irreverence and elegance. Each season, an array of the finest brocades, silks, organzas, wools, and novelty fabrics are used to make flattering silhouettes that can be easily intertwined to take any woman from day-to-night with bold style. Pickett proudly produces each garment in America under her label and tag line, "Made With Love" honoring the one-of-a-kind dresses her Grandmother made for her with the same custom label as a young lady.
To learn more about Jennifer Pickett, Inc., visit http://www.jenniferpickett.com.
Media Contact:
Jessica Zapatero
Publicist
Zapatero+Bucaram Public Relations
(713) 894-4040
jessica(at)zb-pr(dot)com