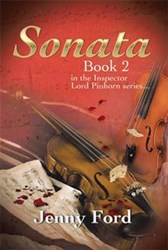 Saratoga, Australia (PRWEB) January 14, 2014
The severed head lay peacefully in a pool of blood on the cold, cement slab below without a trace of the torture and torment it left behind. The haunting visage wore a serene smile and the wide-open brown eyes showed no sign of pain or struggle. So begins the outrageously gripping, new novel by author Jenny Ford. Titled "Sonata," this is the second book in the Inspector Pinhorn series. This imposing and intriguing work of crime fiction delivers nonstop tension, drama and romance, cunningly testing the ingenuity of the reader.
Joining forces with Inspector Lord Pinhorn more mysterious bodies are discovered with no apparent link or motive, while romances blossom in full bloom, true Romeo and Juliet style. Are these almost perfect murders the clever planning of a genius or are the smiling corpses purely coincidental? When the murderer plays one tune too many, a favorite sonata, the many facades behind the mask are exposed, along with the truth.
An excerpt from "Sonata":
I was not looking forward to examining this gruesome discovery but did manage to pluck up courage to kneel down beside it. I inched my way closer and closer as I started to tremble with shock. It was an ugly and grotesque sight. My inner strength held back my feeling of despair as numbness slowly consumed me. Feeling nauseated, I knew the blood and colour drained from my face as I forced myself to heave to one side.
"How could any human being perform such an atrocity on another human being?" I asked myself in disbelief. "What could have possibly driven this person to perform such an inhuman act?" I wondered. "Perhaps it was out of sheer desperation!"
In this intense and fast-paced cat and mouse game, romance, mystery and suspense are cleverly merged to double the pleasure for whodunit enthusiasts. With a series of heart-pounding twists and turns, "Sonata" leads readers to an unforgettable conclusion that will indeed satisfy cravings for a good dose of a detective-mystery read.
Other books include Book 1 – SAMSON, Book 3 – SAILS, Book 4 – SUDDENLY, and Book 5 – SQUIRREL is almost complete.
The author's site can be viewed, and her books can be purchased directly, at http://www.murderbyromance.com or http://www.ebooks4crime.com.
For more information on this book, interested parties can log on to http://www.Xlibris.com.au
About the Author
Jenny Ford was born in Sydney, Australia on the 25th of April 1955. A tasty slice of her mischievous and adventurous childhood was spent on the family farm at Tinonee, on the banks of the Manning River in NSW. She enjoyed the carefree farm life and everything nature had to offer. Jenny appreciated her heritage in a quaint country town where time stood still, being the original cargo town before Taree was established on the opposite bank. From a very young age, she enjoyed writing poetry, compositions and stories straight from the heart.
"I believe each person is unique and has their own special gift to offer. There is beauty in everything and everyone; it just needs to be drawn out and exposed for all to enjoy."
Jenny is a proud Australian. She married and raised her family on the scenic Central Coast of NSW where she resides today. Her other passions include dancing, photography and the beach. Jenny's unique creative and designing flair is utilised both inside and outside the home and evident in her writing. She is worldly and has travelled the globe extensively. "I have experienced the many flavours of life. These humble experiences have taught me to appreciate everyone and everything. I now believe that anything is possible and to never abandon your dreams. Persistence and determination always give a positive result." she said.
Sonata* by Jenny Ford
Book 2 in the Inspector Pinhorn series...
Publication Date: September 28, 2013
Trade Paperback; AU$29.99; 373 pages; 978-1-4836-9606-5
Trade Hardback; AU$49.99; 373 pages; 978-1-4836-9607-2
e-book; AU$6.99; 978-1-4836-9608-9
Members of the media who wish to review this book may request a complimentary paperback copy by contacting the publisher at 1-800-455-039. To purchase copies of the book for resale, please fax Xlibris at (02) 8088 6078 or call 1-800-455-039.
Xlibris books can be purchased at Xlibris bookstore. For more information, contact Xlibris at 1-800-455-039 or on the web at http://www.Xlibris.com.au.