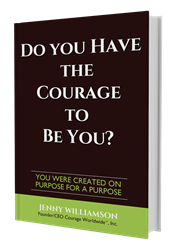 Even when things are hard and you don't think you have much to offer, trust God, bring what you have and you will be used.
(PRWEB) April 07, 2015
Do you have the courage to be you? This was the question that completely changed the direction of Jenny Williamson's life. She is the founder and CEO of Courage Worldwide, an international, non-profit organization that builds homes for children rescued out of sex trafficking. All over the world, children are being sold for sex. They need to be rescued. They need a home and a family. Jenny and her organization have done just that by building Courage Houses in any city that needs one. Jenny believes that each and every one of us was created on purpose for a purpose – even these invisible, vulnerable ones. Her desire is to help them find their purpose in spite of the pain of their past.
In order to believe in others, Jenny first had to believe in herself so she began an intentional journey to uncover her true identity so she could courageously fulfill her own destiny. Today, because of that journey she is equipping, encouraging and empowering others to do the same while she continues helping children all around the world. In her new book, Do You Have the Courage To Be You, Jenny teaches others to take courage and begin their own journey. She wants everyone to discover and fulfill their own water-walking, giant-slaying, history-making destiny. It will take courage, which simply means walking through our fears and conquering our self-doubt. Jenny's book provides tangible steps and direct resources needed to be and do all you were created for. This book will change you so you can change your world.
Do You Have the Courage To Be You will be launching on April 7, 2015 through Next Century Publishing. It will be available for any and everyone who has asked the question 'who am I?' and 'why am I here?' The book is for those who want to matter and make a difference in this world. It is for those who desire to be and do all they were created to. Jenny lives out the concepts she writes about in her book. They are not arbitrary but intentional. This is a book that is perfect for those who believe they are ordinary but want to participate in the extraordinary. Half of all of the proceeds from the sales of the book will go to Courage Worldwide, so readers know that by simply buying and reading this book they are helping children be rescued from sex trafficking and participating in changing their world.
Along with the release of her book, Jenny Williamson is hosting several different events, along with Courage Worldwide to celebrate and bring awareness to the issue of child trafficking. First, on April 9th in Rocklin California, Jenny will be at a Night of Courage at Thunder Valley Casino and Hotel in Rocklin. There will be an expert panel, local dignitaries, and Jenny herself there to discuss how the community can come together as one to best to stop the trafficking of children for sex. At this event, Courage Worldwide and Jenny will be announcing the national campaign - #NotInMyCity #NotInMyState.
Then, on April 13th Jenny will be meeting with Phil Bryant, the Governor of Mississippi who has just recently formed a state wide task force to combat human trafficking in Mississippi. He and his wife will be making the opening remarks at a special film screening of In Plain Sight, an event which is a part of the #NotInMyCity #NotInMyState campaign. This is a film about sex trafficking in the United States and that features Jenny's work with child victims. Jenny will then be attending the screening of In Plain Sight on April 16th at Broadmoor Baptist Church. At the screening there will be an expert panel discussing the issue followed by Jenny delivering the keynote speech as well as selling her book and signing it for attendees.
Lastly on April 18th Jenny will be hosting a book signing in Ridgeland Mississippi at Barnes and Noble where everyone will be able to meet her and have their book signed. Later that day, she will be attending a reception with family, friends, and founders of the community to celebrate the launch of her book with those closest to her.
Jenny Williamson:
Jenny Williamson is the founder and CEO of Courage Worldwide and the author of Do You Have The Courage To Be You? published by Next Century Publishing. Courage Worldwide has opened homes for children who are victims of sex trafficking in Northern California, and Tanzania, Africa. She is an authority on the issue of child sex trafficking and the impact of this crime upon its victims. She is certified life coach and much sought after keynote and workshop speaker.