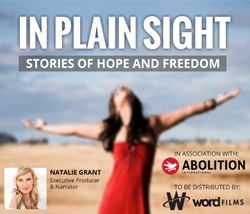 Pursuing a life of purpose requires a fierce determination to not quit when faced with adversity. Expect it, plan for it, and it will come.
(PRWEB) November 20, 2014
On October 14, the film In Plain Sight premiered at the Crest Theatre in California. As the founder and CEO of Courage Worldwide, an international, non-profit organization dedicated to building homes around the world to house children who have been the victims of sex trafficking, Jenny Williamson believes the documentary about hope and freedom for survivors of sex trafficking, is of vital importance. The #Notinmycity campaign was also launched at the premiere. Those involved aim to get proclamations in the fight against sex trafficking in cities nationwide; the audience even chanted the phrase.
The premiere of In Plain Sight, which is narrated and Executive Produced by Natalie Grant, was a sold out event with 450 VIPs including community leaders, government officials, and law enforcement. There was a panel of experts, which included Williamson and her adopted daughter, Liz, who is a survivor of this worldwide plight.
Williamson, who continues to head Courage Worldwide, is currently very busy. After the success of the premiere, media outlets will be running stories about the organization in the coming months. Williamson will have a lot on her plate: in April her book Do You Have the Courage to Be You? will launch through Next Century Publishing. The book's title is modeled after the question that radically changed her life, setting her on a path away from a boring, predictable life and towards the unknown. Williamson hopes to inspire others to take similar changes and live with courage.
In Plain Sight will have over 20 screenings at businesses and churches in January, with many other venues across the nation expressing interest. The film also has several other premieres planned. For more information, or to host a screening of the In Plain Sight, contact Jenny Williamson and her team at info(at)courageworldwide(dot)com.
Jenny Williamson
Jenny Williamson is the Founder and CEO of Courage Worldwide, an international, non-profit organization that builds homes for children rescued out of sex trafficking around the world. With Courage Houses successfully open in Northern California and Tanzania, Africa, Jenny works tirelessly to see rescued children fully restored so they can then hear the life altering truth that they too were created on purpose for a purpose. Courage Houses are a place where they can discover their true identity and fulfill their destiny.
For her efforts and impact in the community, Jenny was awarded the FBI Director's 2010 Community Leadership Award, the 2011 Community Spirit Award by Sacramento's District Attorney, Jan Scully, the 2012 William Jessup University's prestigious Community Impact Award and she was invited to be part of the California Attorney General's Working Group on human trafficking. She was also part of Shared Hope International's Practitioners Working Group for their 2012 National Colloquium meeting in Washington, D.C. and a member of Abolition International Shelter Association's advisory board. Recently, Jenny has been nominated as one of L'Oreal's Top 10 Women of Worth due to her work with Courage Worldwide, more information found at http://www.lorealparisusa.com/en/women-of-worth.
As a professionally- trained life coach and results-driven business leader, Jenny is known for her contagious energy, her motivational speeches, and her passion to change the world. She is an international speaker and has a passion to courageously be and do all God created her to - nothing more - but absolutely refusing to settle for less and encourages everyone she meets to do the same. She and her family live in Northern California, where she also acts as Chief Financial Officer of their family business. To book Jenny to speak at your next event complete the speaker request form at jennytwilliamson.com. You can also follow Jenny on Facebook, Twitter or Instagram.
For more information on the organization Jenny founded or to be one of the million somebodies that are going to build a 1000 homes in 100 countries in 10 years so hundreds of thousands of children can be rescued from the evil of sex trafficking go to courageworldwide.org