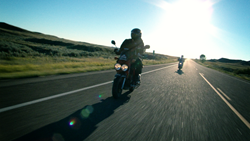 Indie documentary film chronicles cross-country scooter event
Santa Monica, CA (PRWEB) September 05, 2014
"It's not a race," emphasized Jerad Sloan, an indie filmmaker from Santa Monica, Calif. "It's a timed endurance event."
He's referring to the Scooter Cannonball Run, a biennial cross-country trek for motor scooter enthusiasts. The film covers 22 riders on their 10-day 3,487-mile slog from Vancouver to Portland, Maine.
"My two greatest fears are falling off the scooter and breaking down in the middle of nowhere," said 40 year old Vespa rider Lawson Clarke. "I guess we'll have to scratch those two things off the list," he added after crashing on day 2 and breaking down in Glenham, SD (pop. 106) on day 3.
"I saw something about the Scooter Cannon Ball Run the first year it was held," recalled Sloan. "It looked like a lot of fun, but for me, I realized the really fun thing would be to shoot a documentary about it, and share the crazy idea with everybody."
Thus, Scooter Cannonball Run: The Movie was born. Sloan and his partner, Chachi Ramirez, have about 300 hours of footage and are now crowdfunding in order to complete the film. The Kickstarter campaign can be viewed at http://www.kickstarter.com/projects/storydivision/its-not-a-race-the-scooter-cannonball-run-movie.
The campaign welcomes support in any amount. Every backer pledging $25 or more receives a copy of the film. "Crowdfunding a movie is a lot like pre-ordering it. Except you're helping to get it made at the same time," says Sloan.
Taking Vespa, Honda and Yamaha scooters, generally meant for short trips around town, and pushing them to their limits on 10 days of lengthy rides - upwards of 16 hours - and rough terrain - mountain roads and goat trails - wouldn't appeal to most people. "For the men and women who do this, this is their vacation. Would you rather go to Hawaii, or climb the Canadian Rockies on a Honda Ruckus at 14mph?" asked Sloan.
One rider concluded, "It's adventure. How often do you get real adventure in your life? Vacation is one thing, but adventure is another."
For additional information, visit http://www.kickstarter.com/projects/storydivision/its-not-a-race-the-scooter-cannonball-run-movie or the film's Facebook page, http://www.facebook.com/ScooterCannonballRunTheMovie.
Sloan can be reached directly at jerad(at)scootermovie.com.