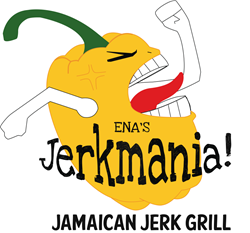 (PRWEB) January 14, 2014
Ena's Jerkmania, the go-to destination for Jamaican food in Springdale, Ohio, announces a variety of perks for its customers in 2014 including new merchandise and discounts. With these great changes Ena's helps customers save big in the New Year.
Customers who show their Ena's pride by sporting the restaurant's t-shirts will receive $1.00 off their order if they wear the shirt while ordering. The t-shirts made by Cincy Apparel will be available for sale at Ena's Jerkmania located on 411 W. Kemper Road. Each Ena's t-shirt will sell for $12.00 and will be available in green and gray in sizes Medium, Large, and X-Large. They are made of ring spun cotton and have the company name in raised lettering printed across the front.
Customers can also save with Ena's new punch card system. Customers who provide an email or phone number and make a purchase of $8.00 or more will receive a punch. The Ena's POS system powered by Square Register will record each punch and after the 10th punch customers will receive a free rice bowl, sandwich, wrap or salad, and their choice of fries and a can of pop.
About Ena's Jerkmania:
Founded in September 2011, Ena's Jerkmania located in Springdale, Ohio, is the brainchild of Ms. Ena's sons Marlon and Ashford Hayles. This family owned and operated restaurant utilizes the increasing popular fast casual dining model providing customers with speedy, authentic, Jamaican Jerk cuisine. Marlon and Ashford opened Ena's Jerkmania to make premium Jerk fare readily available to the mass market. As the Ena's brand continues to expand, Marlon and Ashford are achieving their vision of solidifying Jamaican Jerk food as a top choice among ethnic cuisines. Ena's Jerkmania is the leading fast casual dining option for Jamaican food in Springdale, Ohio. The Ena's brand includes Ena's Caribbean Kitchen in Columbus, Ohio. For more information about the Ena's brand and Ena's Jerkmania visit http://www.thatsjerk.com.