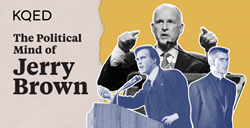 SAN FRANCISCO (PRWEB) December 23, 2019
As presidential hopefuls race toward the 2020 election, Jerry Brown is watching it all from his Northern California ranch. Even though he's retired, the political lifer has strong feelings about what's needed for California and for the country, and about his own legacy. And for five decades Brown had a front row seat to the world of California and U.S. politics. Now KQED brings you The Political Mind of Jerry Brown, a limited-run radio and podcast series hosted by KQED's Senior Editor for Politics and Government Scott Shafer that gives listeners an intimate look at Brown's keen political eye.
As a four-term California governor, Mayor of Oakland and California Attorney General, Brown pioneered efforts to reduce the influence of money in politics, championed far-sighted environmental policies and elevated diverse voices to the judiciary and in his administrations. Along the way Brown also faced three defeats on the presidential campaign trail, including one run he now wishes he'd skipped, and he spent years in "the wilderness" after a stinging loss for a seat on the U.S. Senate in 1982.
As part of a partnership with UC Berkeley's Oral History Center, Shafer, KQED producer Guy Marzorati and historians from the Center spent over 40 hours interviewing with Brown at his ranch. With those conversations and interviews with dozens of others, the series takes listeners through the lessons Brown learned from a political career unparalleled in California history.
"This is a deep dive into the life and career of someone who has had a profound impact on California over the course of 50 years", Shafer says. "Our conversations reveal a reflective side of Jerry Brown — how he plotted his rise in politics, how he both leveraged his father's name and distanced himself from Pat Brown's approach to politics and what he learned from the mistakes he made along the way."
The series starts with a young Brown torn between two different paths. The son of two-term California Governor Pat Brown, the younger Jerry had no intention of following in his father's political footsteps. Instead he devoted his studies towards becoming a Jesuit priest. But a conversation overheard in the governor's mansion sparked his interest, and his father's crushing defeat to Ronald Reagan in a bid for a third-term as California Governor illuminates the pathway for Jerry's political rise.
Politics has always been a struggle between those in and out of power. Brown's weapon of choice against those in power? Claim the mantle of political reformer. The series then leads listeners through pivotal moments in his career from his first term as California Governor up through retirement.
To celebrate the launch of the series, Shafer and Brown will participate in a live one-on-one conversation at the Herbst Theatre in San Francisco on Monday, January 13. For tickets and information visit kqed.org/events.
The Political Mind of Jerry Brown premieres on January 8 with hour-long episodes on KQED 88.5 FM on Wednesdays at 8pm through January 29. Listeners can binge the entire series on Apple Podcasts, NPR One and other podcast platforms beginning January 11.
About the Team
Scott Shafer is KQED's Senior Editor for Politics and Government. He has had an extensive career that includes time in politics, campaigns and government in addition to more than 20 years in journalism at KQED and elsewhere. He is also co-host of KQED's Political Breakdown, a weekly radio broadcast and podcast that takes a more personal look at politics.
Guy Marzorati is a reporter and producer for KQED's California Politics and Government Desk. In addition to producing Political Breakdown, his reporting has focused on the state legislature, local and state elections, and regional housing politics. He joined KQED in 2013 and is a proud alum of Santa Clara University, where he lasted three years longer than Jerry Brown.
Support
This project was made possible with support from California Humanities, a non-profit partner of the National Endowment for the Humanities. Visit http://www.calhum.org.
About KQED
KQED serves the people of Northern California with a public-supported alternative to commercial media. An NPR and PBS affiliate based in San Francisco, KQED is home to one of the most listened-to public radio stations in the nation, one of the highest-rated public television services and an award-winning education program helping students and educators thrive in 21st-century classrooms. A trusted news source and leader and innovator in interactive technology, KQED takes people of all ages on journeys of exploration — exposing them to new people, places and ideas.
http://www.kqed.org