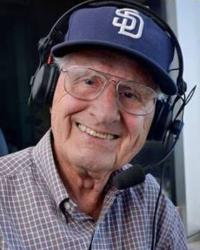 Our goal is to share the reading of this revered document... with anyone who who appreciates what this country stands for...
Carlsbad, CA (PRWEB) July 02, 2013
Jerry Coleman, Hall of Fame broadcaster for the San Diego Padres and veteran of both World War II and the Korean conflict, has recited the Declaration of Independence on a recording that will be made available online July 4 as a free download at ARAMCO.biz/Coleman.
The recording of our nation's most important document was produced in cooperation with the Aramco Group, Plethora Media and All-Star Corporate Marketing Enterprises (ACME).
"Our goal is to share the reading of this revered document by both a baseball legend and proud U.S. Marine Corps officer with students, teachers, fellow veterans and anyone who who appreciates what this country stands for," said Andy Strasberg, President of ACME. "These timeless words are truly inspirational, especially so when read by a man like Jerry."
"We are humbled to be working with Jerry Coleman, whose example is one for all to follow," said Darius T. Aram, Director of Marketing and Business Development for The Aramco Group. "My father, Mehran Aram, and I are proud to be involved in this great undertaking. The recording will be available indefinitely on our website in the hope that Americans everywhere have the opportunity to be touched by these words."
Media outlets will have access to the recording earlier upon request. Attached is a video trailer that television media may utilize. Please contact for more footage.
THE ARAMCO GROUP is a consortium of real estate financing companies collectively committed to serving the needs of its customers. Aramco Mortgage specializes in providing mortgage services for home buyers and those seeking to refinance their existing home loans. Aramco Financial specializes in effecting government insured reverse mortgages for seniors. For more information please email info [at] thearamcogroup.com or call 888.600.1130.
PLETHORA MEDIA GROUP is a full-service creative, media marketing agency specializing in custom branding and full-service media management integration. With clients world-wide, and a commitment to expanding your branding, Plethora Media brings Madison Ave, to Main St. For more information please email pr [at] plethoramediagroup.com or call 760.918.1555.
ACME or All-Star Corporate Marketing Enterprises is a sports marketing agency based in San Diego. For more information email ACME1997 [at] aol.com