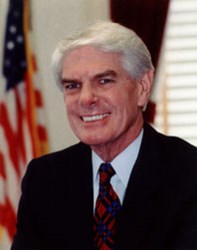 Redlands, CA (PRWEB) January 08, 2014
Former Rep. Jerry Lewis, one of the nation's most influential members of Congress, will bring his extensive policymaking experience to the University of Redlands as a distinguished fellow providing guest lectures and serving as a resource for faculty and students across the University.
The appointment, Lewis' first since leaving public office in December 2012, took effect January 1, 2014.
Lewis will participate in colloquia on sustainability issues important to Southern California and the Inland Empire region, and extend the benefit of his expertise to a number of academic programs, including the University's department of Government, and its programs in International Relations and Public Policy.
"In our culture of open debate and inquiry, where scholarship and practical experiences come together to forge new understanding, we welcome the illuminating discussions and context that an experienced legislator and government leader such as Jerry Lewis can offer our students," said Ralph Kuncl, President of the University of Redlands. "What he brings is at the core of our mission: combining academic excellence with real-world experience."
Over his three decades of public service, Lewis' sponsorship of legislation in Washington, D.C. helped shape many important developments within the Inland Empire region, impacting the creation of jobs, paving the way for improvements in transportation, infrastructure and air quality, and undergirding essential health services, education, support for veterans, and other quality of life issues.
A resident of Redlands, Lewis was widely recognized for his bipartisan leadership during his three decades on Capitol Hill and in 2011 was named as Chairman Emeritus of the powerful House Appropriations Committee after having served as its chair from 2005 to 2007. He served as chairman of the House Defense Appropriations Subcommittee from 1999 to 2005.
At the University of Redlands, Lewis Hall, a one-story, earth-sheltered "green" building where classrooms and offices are housed, was named in honor of Congressman Lewis in recognition of his support for federal funding of university research that pushes forward the boundaries of knowledge while helping train the next generation. His background in environmental sustainability is expected to be a popular topic in his interactions on campus, since students are engaged in a wide variety of environmental and sustainable programs and educational opportunities.
Lewis' role will provide students and faculty within the Government department and across the University with insights on subjects such as policy to stimulate growth in America's technology sector, issues of environmental sustainability, and funding for national defense, according to David Fite, Interim Provost and Chief Academic Officer.
Congressman Lewis' office played a helpful role in the university's May Term course. In addition to setting up various tours throughout the Washington D.C. area, he also met with each class to talk about both policy and serving in the Congress. Congressman Lewis' office also arranged for photographers to take class pictures at the Capitol.
"We believe Mr. Lewis will contribute significantly to the intellectual life of this campus," Fite said. Fite credits Professor Graeme Auton, professor of government at the University of Redlands since 1987 and a former NATO Research Fellow, for helping define the Fellow position and opportunity.
"We consider it an honor to work with Mr. Lewis in his teaching, advising, and collaboration role at the University of Redlands, and are excited about him becoming an integral part of the University community," Fite added.
About University of Redlands
The University of Redlands is an independent, nonprofit liberal arts and sciences university consistently ranked among the best in the nation. Since the University's founding in 1907, Redlands has emphasized academic rigor, personal development, and interdisciplinary studies. A culture of elevated learning provides both undergraduate and graduate students with a holistic education that results in life transformation. Redlands students learn broadly in and outside their disciplines, yet learn equally about service, commitment, life, and the world. As a pioneer in the burgeoning field of spatial learning, Redlands integrates spatial learning across academic disciplines. At the innovative Johnston Center, students have the opportunity to design their own custom major. Home to one of the oldest accredited music programs in California, the School of Music educates musicians in the best of both the liberal arts framework and the conservatory-style approach to teaching musicians holistically. Adults may continue their education or change career directions with programs tailored for working professionals at the Schools of Business and Education, offering evening degree-completion and graduate programs at several convenient Southern California locations.