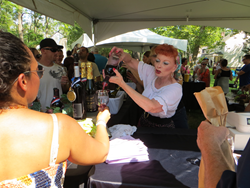 Stretching along the Hudson, Overpeck Park provides an ideal setting for local wine enthusiasts to toast the harvest season, and savor the last whispers of the summer.
Ridgefield Park, NJ (PRWEB) September 09, 2014
The Garden State Wine Growers Association will hold the 2nd annual Jersey Skyline Wine Festival this weekend at Overpeck County Park, in Ridgefield Park, NJ. The festival will be open from 12-5pm each day, featuring 12 terrific NJ wineries, local foods, arts and crafts and live music each day. This will be the third of five annual statewide wine festivals produced by the GSWGA this fall. The event gives northern NJ and New York City residents a chance to enjoy and learn about the award-winning wines being produced right in their back yard, from the Highlands of northwest New Jersey to the sandy shores of Cape May.
The skyscrapers of Manhattan etch the skyline upon entering the park, which sprawls over 800 protected and preserved acres in 5 neighboring municipalities. Stretching along the Overpeck Creek near the Hudson River, it provides an ideal setting for local wine enthusiasts to toast the harvest season, and savor the last whispers of the summer. NJ wineries have exploded in number, from 10 in the early 2000's to nearly 50 today. With a wide range of soil and weather across the state, local wineries produce a equally broad spectrum of wines, from dry traditional European varieties, to sweeter native grapes. Some producers even ferment other local fruits such as blueberry and peach. With hundreds to sample, the festival guarantees a wine to suit every palate.
Overpeck County Park allows responsible consumption on the property, so attendees can enjoy their favorite wines on the lawn in front of the bands. On Saturday, Abraham & The Groove will play R&B and reggae. On Sunday, Total Soul returns from last year to play on Sunday. The band was wildly popular, playing Motown, R&B, and today's pop covers. The bands play from 12-5 each day.
Foodies will feel at home with food trucks offering delectable bites from flatbread wood-fired pizzas and BBQ, to seafood soups. "The Empanada Guy" will be on site in one of his food trucks, fresh off an appearance on Food Network's "Beat Bobby Flay." Artisan food and craft vendors will have their wares available; with everything from spices and sauces to chocolates and other seasonal treats. The event is family friendly, with a crafts activity tent for kids to enjoy as well.
Tickets are $25 for adults; while those under 21 are free. Designated drivers receive complimentary admission to the festival. Tickets can be purchased online in advance at a $5 discount, which is available through Saturday the 13th. Admission includes a souvenir wine glass that can be used to sample the wines. Overpeck County Park has entrances at 199 Challenger Road in Ridgefield Park (best for approaching from NJ) and 40 Fort Lee Rd in Leonia (easier for driving from NYC), or a 20 minute bus ride from the Port Authority Bus Terminal on Manhattan will drop visitors from New York City at the southern entrance. The park will operate a shuttle from the parking areas to the festival grounds each day as well. The Jersey Skyline wine festival will run from noon to 5 p.m. each day. Ticket information, a festival guide, and the full list of winery participants can be found by visiting http://www.newjerseywines.com.
The GSWGA is a coalition of nearly 50 wineries and vineyards across New Jersey, dedicated to raising the quality and awareness of the New Jersey wine industry. For more information, please contact Executive Director John Cifelli at 908-866-6529 or John(at)newjerseywines(dot)com.