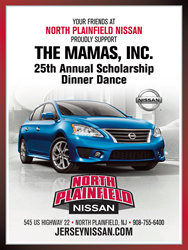 North Plainfield, NJ (PRWEB) April 20, 2014
North Plainfield Nissan, located on Route 22 West in North Plainfield, has long been involved in the community sponsoring sports teams and many other charitable events. They recently joined with two special organizations to help raise awareness of their important missions and to help boost charitable donations for them.
The Leukemia & Lymphoma Society's key mission is to cure leukemia, lymphoma, Hodgkins disease and myeloma and to improve the quality of life for patients and their families. Dan Chirichello, General Manager of North Plainfield Nissan, has committed his support of this valuable charitable organization. "We are happy to support their '2014 Betting On A Cure Casino Night' at the Hyatt Regency in Jersey City on June 12th, and we want it to be a huge success", states Mr. Chirichello. "The work this organization does to address the unique needs of young adult cancer survivors and their families is so important." Leukemia is the most common form of cancer to affect people under the age of 20, and Lymphoma is the third most common form of cancer to affect this age group.
MAMAS, INC., Mothers Advocating Mastery Academic Success, is a unique academic based organization made up primarily of retired Newark teachers. Its members consist of dedicated women who strive to see Newark's youth succeed. Remembering their own experiences growing up in Newark and the difficulties they had getting through college, the MAMAS have organized a non-profit scholarship fund. Mr. Chirichello states, "We feel strongly about supporting hard-working people who are helping our inner city youths to succeed, and that's why we're supporting the MAMAS 25th Annual Scholarship Dinner Dance".
North Plainfield Nissan is a dealership that's been in the local community for decades, lending their support to many non-profit organizations. They have one of the tri-state area's largest selections of new Nissans and pre-owned vehicles, and it's not unusual for their customers to become 'friends' and recommend the dealership to friends and family. This kind of relationship with the community has made North Plainfield Nissan a leader in both sales and service with customers coming back time and time again to purchase vehicles from them. For more information, contact Dan Chirichello or the Management team at North Plainfield Nissan at 908-755-6400, or visit them at http://www.JerseyNissan.com.