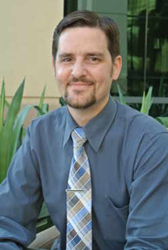 The personable, professional, and friendly vibe I felt from everyone first attracted me to the opportunity at Symmetry Software.
Scottsdale, Arizona (PRWEB) July 07, 2014
Jesse was first drawn to Symmetry Software through what he calls, "the personable, professional, and friendly vibe he felt from everyone." Noting the feel of community, he was further excited about the new challenge of supporting clients on the frontlines by assisting and guiding them to optimize their usage of Symmetry's suite of products. Communicating with both clients and Symmetry's team of software engineers was another exciting aspect of the role in that Jesse is able to play a role in ensuring that Symmetry's products are accurate, up-to-date, and robust.
Jesse comes to Symmetry Software with extensive previous work experience as an Automation Support Analyst. In this role, he was responsible for troubleshooting hardware and office automation software onsite and desk-side within large companies of 1,000 employees or more. He also supported a wide range of Blackberry, Android and iPhone devices, administering accounts and troubleshooting issues with communication, synching, or hardware failures. Jesse began his professional career as a customer service representative, transitioned to Human Resources, and finally transitioned to automation support.
In his spare time Jesse enjoys spending time with his wife and two-year-old son at The Little Gym. He also is a huge movie buff with a particular interest in action, sci-fi, and superhero movies. Additionally, he has recently become interested in bespoke tailoring, saying, "Who doesn't like looking sharp?"
About Symmetry Software
Symmetry Software simplifies the payroll process with our dependable and accurate payroll withholding tax solutions. Our team of software engineers and taxation experts provide innovative, regulatory compliant payroll software products including the Symmetry Tax Engine®, Symmetry Payroll FormsTM, Payroll Point®, and PaycheckCity® calculators. Since 1984, Symmetry Software has been helping clients get the right taxes, the first time.
###