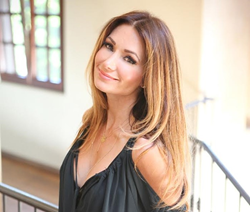 I have searched for 10 years for a visionary that could deliver to millions of moms in an integrated way through social media and non-traditional marketing executions. Jessica met all of those criterion and so much more. - Evan Morgenstein
Cary, NC (PRWEB) November 12, 2015
Premier Management Group has signed an exclusive partnership with Lifestyle Expert Jessica Denay. In 2005, Denay founded Hot Moms Club (HMC) as a way to keep moms of all ages up-to-date on the latest trends in parenting, health & fitness, beauty, style and more. HMC has worked and hosted events with some of Hollywood's most famous celebrity moms including Giuliana Rancic, Alison Sweeney, Mariska Hargitay and Jenny McCarthy.
According to MediaPost, 65% of moms say they've purchased something because of a recommendation they saw online. Additionally, a 2015 study completed by BabyCenter showed that 73% of millennial moms use parenting communities for brand and product recommendations. Denay connects with this important demographic of consumers on a daily basis through HMC, aggregating a social media following of over 2.8 million moms and growing. The HMC Facebook page is recognized as the largest community group of moms on Facebook.
Premier Management Group will assist Denay in partnering with world-class companies focused on bettering moms' quality of life. Premier Management Group President and CEO Evan Morgenstein said, "I have searched for 10 years for a visionary that could deliver to millions of moms in an integrated way through social media and non-traditional marketing executions. Jessica met all of those criterion and so much more."
For more information on how to hire Lifestyle Expert Jessica Denay for partnership opportunities and appearances contact Evan Morgenstein at evan(at)pmgsports.com or call (919)459-5426. For media inquiries please contact Matt Uberseder at matt(at)pmgsports.com or call (919)459-5428.
About Premier Management Group
Premier Management Group is an elite celebrity marketing agency with the goal to create a space in the industry that is completely unique through superior creativity and innovation. Premier Management Group aims to provide each client with the same level of professional representation and service. Additionally, Premier Management Group is an industry leader in providing corporate consulting services. Each client, whether celebrity or corporation, is treated with an added personal touch. For more information on our complete roster of sports stars and lifestyle personalities, visit http://www.pmgsports.com.