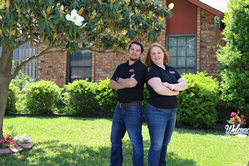 Fresh Coat Painters is a great opportunity to bring a new level of professionalism to the painting industry here and to help our neighbors love their homes. - Jessica Land
THE COLONY, Texas (PRWEB) May 24, 2021
Local couple Jessica Land and Alex Cruz are pleased to announce the launch of their new family business – Fresh Coat Painters of The Colony. This new locally-owned-and-operated painting franchise serves The Colony, Dallas, Lewisville, Carrollton and the surrounding areas.
Fresh Coat Painters of The Colony offers painting services including interior and exterior painting, sealing and staining; popcorn ceiling and wallpaper removal; faux painting; agricultural painting; garage epoxy; drywall repair; gutter cleaning and more. Fresh Coat Painters has a national product partnership with Sherwin-Williams®, so products are guaranteed to be high quality.
"At Fresh Coat Painters, we want to build long-time customers and that starts with doing a great job and providing a top-notch customer service experience. We are on time, on budget and we don't cut corners. We treat our clients the way we'd want to be treated. It seems simple, but that can be hard to come by," Alex said.
As part of the company's commitment to service, Fresh Coat Painters uses background-checked painters and has a 24/7 receptionist, online scheduling and free detailed quotes, and they only use high-quality materials. Fresh Coat Painters also offers a 3-3-3 customer service pledge, which means calls will be answered by a live person within three rings, a quote will be delivered within three days (customer schedule permitting) and the job will be started within three weeks.
Jessica has been a teacher and has worked in corporate human resources and administration. Alex's background is in mortgage industry and construction. They were looking to work for themselves – and together – when they found Fresh Coat Painters.
"We've had the opportunity to work for others and to help them build their companies, but we were ready to do something for ourselves, our family and our community. Fresh Coat Painters is a great opportunity to bring a new level of professionalism to the painting industry here and to help our neighbors love their homes," Jessica said.
Fresh Coat Painters was founded in 2004 as part of Strategic Franchising Systems. Since 2015, Fresh Coat Painters has been included in the Bond's Top 100 and named to Entrepreneur Magazine's Franchise 500 list. Fresh Coat Painters is also part of the International Franchise Association, the Small Business Association's Franchise Registry, VetFran and Minority Fran. Fresh Coat Painters of The Colony is bonded and insured.
For more information about Fresh Coat Painters of The Colony, call 469-839-6290, email JLand@FreshCoatPainters.com or visit http://www.FreshCoatPainters.com/The-Colony.