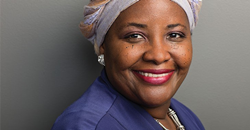 As a Growth Coach, my goal is to help clients step back, take a strategic look at the business, understand the realities of the business as it stands today, discuss where you want your business to be moving forward, create a plan to get you there and then help you stay on track. - Jessie Kwatamdia
COLUMBIA, Mo. (PRWEB) June 07, 2021
After a career in non-profit leadership and education, Jessie Kwatamdia is looking forward to serving her community in a new way as the owner of her local business and sales coaching company – The Growth Coach of Columbia.
The Growth Coach is the largest provider of affordable group coaching workshops in the nation. They also offer leadership training and one-on-one coaching for sales professionals, managers, management teams, self-employed professionals and more. Their approach follows three industry-leading series – their Foundational Series, Fundamental Series and Fast Forward Series. Kwatamdia works with clients in Columbia, Foristell, Lake Saint Louis, O'Fallon, Warrenton, Wentzville, Saint Charles and the surrounding areas.
"As a Growth Coach, my goal is to help clients step back, take a strategic look at the business, understand the realities of the business as it stands today, discuss where you want your business to be moving forward, create a plan to get you there and then help you stay on track. It's all a combination of listening, learning, mindset, training and teamwork. We can solve problems by working together," Kwatamdia said.
Kwatamdia has a Master's degree in Adult and Continuing Education from Kansas State University and started her career in education and family services as a teacher, counselor and business owner. Her recent roles have included the Fundraiser and Public Relations Director for Douglas County Senior Services, Director of Philanthropy at Stephens College, and Executive Director for the Greater Missouri Chapter of the Alzheimer's Association. Throughout those roles, Kwatamdia created hundreds of courses, seminars and educational programs; built business demand, revenue and communities around nonprofit missions; developed inter-departmental and community-wide relationships to foster support and organizational growth; and led the annual Walk to End Alzheimer's.
"My career and my volunteer work have always been about continuing education, creating strategies, connecting people to resources, building relationships and raising awareness through leadership and outreach. Throughout all of my roles, the most rewarding thing has always been to have the opportunity to help others grow and reach their potential. I love to coach, train and guide. I love to grow people," Kwatamdia said. "The Growth Coach is a perfect fit for me because it gives me the opportunity to do what I love, continue to serve my community and help business leaders grow their businesses in a balanced and sustainable way."
As a Growth Coach, Kwatamdia is also certified in The Strategic Mindset coaching process, which adheres to the standards, practices and policies that the International Coaching Federation has outlined in their Code of Professional Standards and Ethics. The company's landmark Strategic Mindset Process© is so effective that it comes with a money-back guarantee.
"I have the training, experience and programs to help business leaders grow their businesses and find balance in their lives. I'm looking forward to using my background in leadership, business development, coaching and relationship building to help the business community here in the Columbia area thrive," Kwatamdia said.
The Growth Coach, founded in Cincinnati, Ohio, sold its first franchise in 2003, but its leaders have a successful 20-year track record of helping business leaders find success and balance. Today the business and sales coaching franchise is in more than 100 markets worldwide. The Growth Coach has been included in Bond's "Top 100 Franchises," recognized in Entrepreneur Magazine's "Franchise 500" and "Best of the Best," and featured in USA Today and on FOX, CBS and NBC.
For more information about how The Growth Coach of Columbia can help you and your business, call 573-200-1527, email JKwatamdia@TheGrowthCoach.com or visit https://www.thegrowthcoach.com/columbia-mo/.