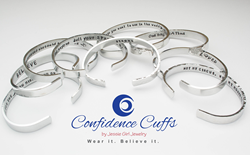 Confidence Cuffs® are a great way to give a confidence boost to...anyone who needs to remember how great they are.
Hopatcong, New Jersey (PRWEB) October 02, 2014
Jessie Girl Jewelry (http://www.jessiegirljewelry.com) is announcing the launch of Confidence Cuffs®, a new line of hand-stamped bracelets designed to provide a boost of confidence whenever the wearer needs it.
Jessie Girl Jewelry founder Jennifer Colgan says, "Everyone needs a boost to their confidence once in a while. Confidence Cuffs provide a reminder whenever you need it. On the outside, they look like a silver cuff bracelet but on the inside, they are filled with inspiring words to lift you up and remind you just how awesome you are."
Jennifer designed the first Confidence Cuffs® for her two daughters to help ease back to school nerves. She made each girl a cuff and then stamped self-assurance building words of the girls' choosing, like "smart," "funny" and "kind," on the inside of their bracelets. The words acted as a sort of secret message they could look to for an instant shot of awesomeness.
The idea was so successful that Jennifer decided to share it with her customers. Confidence Cuffs® are now available to everyone in sterling silver or aluminum, with polished, brushed or hammered finishes.
Buyers can choose from sayings like, "Not my Circus. Not my Monkeys," "Loved," "Believe," "One Day at a Time," "Just Keep Swimming. Just Keep Swimming," "Be the Change You Want to See in the World," "Shake It Off" or "Do Good and Good Will Come to You." Custom-stamped Confidence Cuffs® are also available and might include a string of words such as "strong," "amazing," "beautiful," "smart," "funny" and "loving."
Jennifer remarks, "Confidence Cuffs® are a great way to give a confidence boost to a young girl, a sister, a best friend or anyone who needs to remember how great they are."
The Confidence Cuff® collection is sold exclusively at JessieGirlJewelry.com. Cuffs come in sizes small, medium and large. The aluminum version is $22.00. The sterling silver version is $48.00.
Jennifer creates all Jessie Girl jewelry designs out of her studio in Hopatcong, New Jersey. Her focus is on creating personalized jewelry that celebrates family, friendship and the human spirit.
Jessie Girl Jewelry recently included its sterling silver STRONG and ENOUGH necklaces in an exclusive Press Swag Bag compiled by The Artisan Group® for GBK's Luxury Gift Lounge for the 2014 MTV Movie Awards. The STRONG necklace is intended as a statement of strength, to be worn proudly close to the heart. The ENOUGH necklace is meant to remind the wearer that she is enough, just the way she is.
Jessie Girl Jewelry's Mommy Necklace and Wished for You Necklace also were included in the exclusive The Artisan Group 2014 Mother's Day Gift Bag delivered to some of Hollywood's most talked about Moms and Moms-to-Be. Recipients included Jaime King, Alicia Silverstone, Jennifer Love Hewitt, Tammin Sursok, Halle Berry, Rachel Leigh Cook, Kendra Wilkinson, Gwen Stefani and Kerry Washington, among many others.
For more information, reporters can contact Jennifer Colgan at (973) 306-9107 or by email. Become a fan on Facebook, Pinterest and Instagram (@jessiegirljewelry) and follow Jessie Girl on Twitter (@jessiegirljewel). Shop Jessie Girl Jewelry at jessiegirljewelry.com.
ABOUT JESSIE GIRL JEWELRY
Jessie Girl Jewelry (http://jessiegirljewelry.com) creates unique jewelry, personalized with the things its customers care about such as dates, names and inspirational sayings. Owner/designer Jennifer Colgan hand stamps each piece of sterling silver jewelry one letter at a time to create a lifetime piece that means something very special for the wearer.