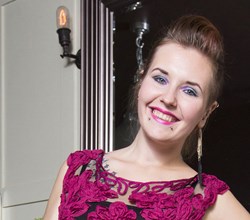 We are excited about the level of interest in our British made banjos and we look forward to creating more jobs soon.
(PRWEB UK) 8 January 2014
The Great British Banjo Company, which last year launched one of the most successful ever Kickstarter campaigns, has announced its first new appointments resulting directly from the campaign.
The company, which is Britain's only volume banjo manufacturer, has appointed a full time 'Banjoneer' and a part-time PR and social media expert.
Geoff Ransome, who is a trained classical guitar luthier, and who has also run his own guitar making business, has joined the business full time as a 'Banjoneer'. Geoff is leading the development and production of the company's Shackleton banjo, alongside company founder Simon Middleton.
Ransome has a BA in Fine Craftsmanship and Design, and did his specialist lutherie training at Newark College, one of the UK's leading instrument technology institutions.
Jess Shanahan has been appointed part-time PR and Social Media for The Great British Banjo Company, through her consultancy Jet Social.
Shanahan, who is an established social media expert and a popular blogger on Norfolk topics, will be leading the company's campaign to raise its profile amongst potential customers.
Founder and managing director Simon Middleton said: "We set out to create employment with our company, and these first appointments have happened ahead of schedule. We're very excited about the level of interest in our British-made banjos and we look forward to creating more jobs soon."
The Great British Banjo Company's Kickstarter campaign, which ended last October, was in the top 2% of most successful campaigns on the platform. The crowdfunding campaign centred on the company's Shackleton Banjo. The project generated 150 advance orders and created worldwide media interest.
The company will deliver its first Shackleton Banjos to customers next month, and will introduce further models in 2014, including a limited edition Centenary Shackleton banjo marking the 100th anniversary of the start of Shackleton's Endurance expedition.
There are also plans for a unique high-tech E100 Shackleton, one of which will be taken to the South Pole as part of the Imperial Trans-Antarctic Centenary Expedition which will be walking right across the continent on Shackleton's planned but never-completed route.
The company's first banjo was The Islander Ash Leaf, introduced as a limited edition in 2012. That model is completely sold out and is now considered a collector's instrument.
Company Information
The Great British Banjo Company is a privately owned company based in Norwich, Norfolk, UK.
Website: http://www.thegreatbritishbanjocompany.com
Tel: 01603 305800