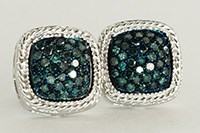 Fine colored diamond jewelry is hot right now and can be affordable.
Cincinnati, Ohio (PRWEB) September 24, 2013
Blue, pink, yellow, black and even brown diamonds are taking the jewelry industry by storm. These natural and treated stones range in color and offer unique styling options. And, these rare diamonds can be yours. In keeping with all the latest trends in jewelry, Jester Jewelers is stocking these pieces for fall 2013 and announces the arrival of new colored diamond jewelry pieces.
Carrie Jester states, "it is part of what is great about being in the jewelry industry - seeing the latest in trends and styles and being able to offer them to our customers at affordable wholesale prices. It is fun to see such amazing, rare pieces at auction. But the average person will never own anything like that. However, in our continued commitment to bring affordable designer-style fine jewelry to our customers, without the designer price tag, we offer pieces selling for hundreds - not hundreds of thousands."
While colored diamonds are millions of years old and were discovered centuries ago, they have surged in popularity in the last decade or so. Diamonds come in all shapes, sizes and colors – from the palest pink to the most vibrant orange. White diamonds are by far the most popular. Black and brown diamonds have seen a spike in popularity in recent years. Most recently, blue diamonds have become a big seller. These stones are used in all types of fine jewelry: rings, earrings, pendants and bracelets. Colored diamonds occur naturally. There are also treatments to enhance the color of less vibrant stones. Advancements in these treatment processes have fueled the popularity of colored diamonds because treated stones are more readily available and more affordable for most people. Naturally occurring colored diamonds are rare and therefore more expensive. Treated stones are still genuine diamonds and add a gorgeous pop of color to fine jewelry pieces.
Jester adds, "we aid our customers in making an educated purchases. That is the best way to buy fine jewelry including colored diamond jewelry. With the broad range or colors, treatments, size and cuts, the customer can decide the best way to spend their money. It is dependent on what is most important to them: how and when they will wear their piece and how much they want to spend. Regardless, these diamond jewelry pieces are a gorgeous addition to anyone's jewelry box."
Jester Jewelers is a wholesale jewelry store in Cincinnati, Ohio offering engagement rings, genuine gold and diamond jewelry at wholesale prices and discounted diamonds direct to the public. Since 1939, Jester Jewelers has consistently provided experienced expert service, high quality and exceptional value at low wholesale prices. For more information on Jester Jewelers, please call 513-241-1465 or visit their online jewelry store at http://www.jesterjewelers.com.