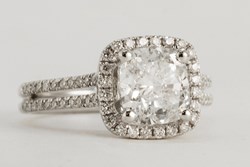 (PRWEB) September 11, 2013
The 2013 annual JCK jewelry show in Las Vegas, a top jewelry industry convention, boasted an energy not seen in years. According to industry reports and The Conference Board, consumer confidence is at a six-year high.
This positive attitude toward the economic climate points to an exciting upcoming holiday season. In contrast to recent years, jewelry stores are placing big orders and bumping up inventory in anticipation of a busier Christmas season.
Jester Jewelers, a Cincinnati wholesale jewelry store, reports that this bodes well for the consumer because this means broader selection as they will increase their inventory this holiday season. "We are now getting in new engagement rings and diamond jewelry styles, blue diamond jewelry as well as personalized jewelry and custom pieces," say Carrie Jester, of Jester Jewelers.
According to Jester, "we've seen an increase in customer spending over the past year. However, in recent months, we've had a notable increase in sales of more expensive pieces and diamond jewelry in Cincinnati. This increase has allowed us to offer many new pieces of jewelry to our customers."
In addition to the typical engagement rings, diamond rings, sapphire and ruby jewelry, jewelers are spotting trends such as blue diamonds, tanzanite, black rhodium and textured metals.
Jester adds, "blue diamond jewelry is especially popular right now. We have already added quite a few blue diamond jewelry pieces to our inventory as we head into fall. And, the selection is broad. We have blue diamond earrings, pendants and rings. In the nearly twenty years that I have worked in the jewelry industry, I have never seen jewelry designs this versatile."
Another hot trend is monogram pendants. Celebrities like Taylor Swift and Lauren Conrad have been spotted rocking the personalized monogram pendant. And people are catching on to the look.
Jester says, "personalized jewelry is not new in jewelry. But, with so many celebrities wearing this, it has become more popular. It is a great way to take a hot trend and make it your own. Jester Jewelers is especially excited about these pendants because we have recently purchased new software that will allow us to design, customize and fabricate these personalized jewelry pieces onsite in our shop. Our customers will be able to create a piece of jewelry that is unique to them."
Jester Jewelers is a wholesale jewelry store in Cincinnati, Ohio offering engagement rings, genuine gold and diamond jewelry at wholesale prices and discounted diamonds direct to the public. Since 1939, Jester Jewelers has consistently provided experienced expert service, high quality and exceptional value at low wholesale prices. For more information on Jester Jewelers please call 513-241-1465 or visit their online jewelry store at http://www.jesterjewelers.com.