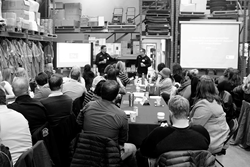 Our mandate is to provide an event that showcases how people in business, in their day-to-day life, use social media to do that they do.
Red Deer, Alberta (PRWEB) December 11, 2015
The warehouse of a uniform cleaning and janitorial supplies company might seem like an unlikely place for dozens of social media buffs and beginners to gather, and yet the Social Media Breakfast Red Deer (SMBRD) event recently held amidst crates of coveralls at JET Uniform & Supply was the group's most successful event yet.
Nearly 90 people—the highest attendance ever—turned up to talk social while dining on gourmet pancakes and coffee served by the JET team on Nov. 19.
"It was an overwhelming success," says Stephen Milaney, co-owner of the Red Deer uniform and supplies firm that hosted the event. Milaney swapped his suit jacket for a chef jacket so he could help flip pancakes and 'get schooled' about channels such as Twitter. "The results were pretty surprising."
At one point during the event, #SMBRD was trending fourth in Canada. JET itself saw some surprising numbers that day, including:

21 new followers
More than 100 mentions
More than 300 likes on tweets JET was mentioned in
More than 100 retweets on tweets JET was mentioned in
In November, with exposure leading up to and following the breakfast, JET's:
Tweet impressions were up 56.6%
Profile visits were up 295.6%
Mentions were up 2100%
Followers were up 27 people
JET's top tweet had 456 impressions
Between breakfast and networking, participants—both a mix of social media influencers and business owners from across central Alberta—had a chance to learn more about the role and power of social media from SMBRD organizers.
"Our mandate is to provide an event that showcases how people in business, in their day-to-day life, use social media to do that they do," says Mike Best, one of three SMBRD organizers.
"It was definitely a good lesson in where the world is going," says Milaney, a self-declared former 'Twitter neophyte' learning more about social media because he understands the value of that presence. At the same time, he says in business-to-business, knocking on doors and building relationships is the most effective way to build sales, and so the event allowed JET to kill two birds with one stone.
"For us it was a totally different level of exposure," says Milaney. "There were a number of people who said, 'I didn't know you guys did this or that.' The bottom line is, we gained at least three new customers."
Best says networking opportunities and social media education go hand in hand for SMBRD. "It's very important to us to showcase the diversity of local Red Deer businesses and the people behind them, and that's definitely what happened at the JET event."
JET plans to host another Social Media Breakfast event in the spring of 2016.
About JET Uniform & Supply
JET Uniform and Supply Ltd. is based in Red Deer, Alberta. Over the last decade, JET has outfitted and provided janitorial cleaning supplies and clean uniforms to correctional facilities, companies, restaurants, institutions, schools, and more.
JET brings so much more to companies than simply ensuring clean, mended uniforms, janitorial supplies, or stocking washrooms. The added-value received from each service helps organizations save money and time, while providing teams with durable, quality products so managers can focus on running their organization.
For more information, please contact:
Steve Milaney
Stephen(at)jetuniform.com
Owner, JET Uniform & Supply
403-343-9247
http://www.jetuniform.com