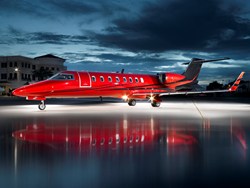 We are fortunate at Key Air to continue to build upon our solid proven platform with the addition of high quality aircraft supported by the growing team of professionals.
Oxford, CT (PRWEB) August 15, 2013
Key Air, a leading national provider of best-in-class aircraft management and worldwide executive jet charter services has added a pristine Learjet 45XR to its charter fleet of managed aircraft and hired aviation professionals Ron Muller and Nazee Sajedi to expand its Charter Sales division in the Northeast region.
The 2007 custom Learjet 45XR joins Key Air's impressive charter fleet comprised of several beautifully maintained aircraft ranging in size from small and mid-cabin to super-mid and heavy cabin private jets. This sleek and highly efficient aircraft has a newly refurbished custom-detailed interior that features supple ostrich leather seating for 8 passengers, rich black lacquered tables, a mini forward galley with marble countertop and a microwave oven, and an entertainment system that includes a DVD player, CD player and dual video monitors, with a sliding aft monitor to ensure unobstructed viewing by rear facing passengers, and a separate and enclose aft lavatory. Based in Florida, the Learjet 45XR is a superb addition to the company's wide-variety of charter aircraft in demand.
In support of its growing charter fleet, Key Air has also added two new charter sales professionals to its team expanding services to the New York and New Jersey markets. Ron Muller comes to Key Air with over 15 years of aviation experience and a proven track record of success in charter sales. Formerly the Director of Charter Sales for another aviation company, Mr. Muller was instrumental in managing their day-to-day charter operations. As Key Air's new National Charter Sales Representative based in New York, he will be primarily responsible for developing Key Air's nationwide client base. Mr. Muller graduated from Dowling College in Oakdale, NY with a degree in Aeronautics and Management.
"Ron will prove instrumental in increasing sales on our growing charter fleet. His vast experience in providing personalized charter solutions and commitment to delivering world-class client service is unmatched and invaluable. We are excited to attract this caliber of professional to our team," said Matt Dalton, Key Air's Manager, Business Development.
Joining Key Air's Teterboro, NJ charter sales team is Nazee Sajedi. Ms. Sajedi was formerly a Revenue Manager for another charter operator. As a certified private pilot, she turned her passion for aviation into a career successfully increasing sales revenues and client retention. Ms. Sajedi graduated from San Jose State University with a degree in Aviation Operations and Management. "Nazee's aviation knowledge and experience coupled with her personalized client support will be a valuable asset to Key Air's commitment to exemplary customer service," add Dalton.
"We are fortunate at Key Air to continue to build upon our solid proven platform with the addition of high quality aircraft supported by the growing team of professionals," stated Greg Kinsella, Key Air President and CEO. "This winning combination provides our clients with the superior high touch service and extensive capability for which Key Air is known."
About Key Air
Established in 1985, Key Air's expertise and reputation for providing safety, reliability and exceptional customer service enabled its expansion from a regional operation to its current national status. Custom, tailored-fit aircraft management solutions and boutique style services exemplifies Key Air's commitment to individualized care enabling its successful remote aircraft management model to extend to seven base locations nationwide. Key Air manages an impressive charter fleet of modern midsize to ultra long range aircraft all meticulously maintained to offer clients a broad range of solutions to meet their travel needs, Committed to the safety and security of its clients, Key Air garners several prestigious safety accreditations, including industry Audit Standard registration from the Air Charter Safety Foundation, International Standard for Business Aircraft Operations (ISBAO) and continued Platinum operation status by ARG/US.
For more information about Key Air and our offerings, visit us at w http://www.KeyAir.com or call at 888.539.2471.