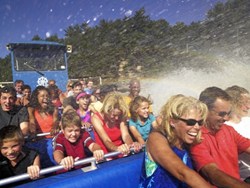 Jet Boat Adventures is a guaranteed adrenaline rush!
Wisconsin Dells, WI (PRWEB) August 06, 2013
Hold on and prepare to get wet because this river excursion is not for those with a leisure cruise in mind. A fast-paced trip aboard the high-powered Jet Boat Adventures takes passengers on a wild ride along the scenic Wisconsin River as it winds through Wisconsin Dells. Expert boat pilots splash in some local lore and geological factoids along the way.
"Jet Boats are the best of both worlds for Wisconsin Dells visitors; part thrill ride, part river tour," said Dan Gavinski, general manager of Dells Boat Tours.
With a burst of adrenaline, Jet Boats take vacationers splashing through summer on the premier powerboat experience in Wisconsin Dells. Featuring spinouts and power stops that send a burst of water up over passengers, it's a thrilling adventure out on the open water.
Jet Boat Adventures features high-performance boats fueled by a 1200-horsepower engine. The 60-passenger boats are designed to skim the water with the help of powerful air jets which allow it to travel in water as shallow as 12 inches. The 50-minute ride focuses on fast speeds, power stops and big sprays. Expert pilots throttle the Jet Boat up to 40 mph and perform spinouts, quick stops and skilled maneuvers that treat passengers to a refreshing splash of water.
"For people who want a thrill, and want to cool off in summer, Jet Boat Adventures is a guaranteed adrenaline rush," added Gavinski.
Jet Boat Adventures operates on both the Upper Dells and the Lower Dells. The river is separated by a dam. Riders can choose to take just one tour, or get the complete experience and save some major bucks by purchasing both tours, which can be taken at the passenger's leisure. Ticket booths are located at either end of the bridge over the dam where the Jet Boats launch from the boat docks. Prices are $25.00 for adults (ages 12 and older) and $12.50 for children ages 4 to 11. Parents are advised that the fast-paced jet boat is not suitable for children age 3 and younger.
When the Jet Boat ride is over, and the famous Dells rock formations are just a blur, you can see the bluffs again in real time aboard one of the many other river excursions offered by Dells Boat Tours. Money-saving combination packages are also available with Upper Dells or Lower Dells leisure boat cruises as well as with Original Wisconsin Ducks giving visitors a variety of ways to get on the water to see the scenic sandstone cliffs.
Jet Boat Adventures 2013 season runs through October 15. Call for departure times during the spring and fall is from 10 a.m. to 4:00 p.m. Otherwise, riders are sure to catch a jet boat ride every 30 – 45 minutes 10 a.m. to 7 p.m. during the peak summer season.
The splash-and-dash Jet Boat Adventures are one of several tour options offered by Dells Boats Tours. For over 150 years, Dells Boat Tours have been a mainstay attraction in Wisconsin Dells delighting travelers of all ages. Tours run on a 7½-mile stretch of the Wisconsin River giving vacationers an up-close view of the rocky cliffs that are the signature of Wisconsin Dells. For more information, please call (608) 254-8555, or visit jetboatadv.com.