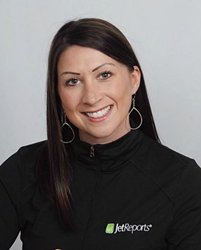 "We are excited that our new website provides all Microsoft Dynamics users, and our global customer base, with valuable, practical information they can use today."
PORTLAND, Ore. (PRWEB) August 09, 2016
Jet Reports has launched a brand-new website today, located at http://www.jetreports.com, focused on providing companies using Microsoft Dynamics ERP solutions with clear examples of how they can use financial reporting and business intelligence (BI) to transform business results.
Built with an educational framework, Jet Reports VP of Marketing, Tara Grant, said it was vitally important that the website itself provide the public with a comprehensive understanding of the value technology and analytics brings to business today.
"We are excited that our new website provides all Microsoft Dynamics users, and our global customer base, with valuable, practical information they can use today," Grant said.
"We wanted to give people a full, applied picture of how reporting and business intelligence is used, and give them the information about how to leverage it themselves," she added. "This site represents that we aren't just here to sell software – we are passionate about data and want to spread our enthusiasm and knowledge to the world for everyone to use."
The result is a website that is rich in content, with more than 30 pieces of downloadable educational materials on subjects like how to build KPIs, the best practices for financial reporting, Excel tutorials, a video demo on Jet Reports products, plus scores of practical case studies from Jet Reports users around the globe – including the multinational non-profit Amnesty International and well-established manufacturer Kinsey's Archery Products.
The site offers a visitor-focused interface, and is easy to navigate whether someone is new to BI applications or has a long-standing experience with business analysis tools. Product support, plus product downloads are all available directly from the main menu.
Finally, in recognition of the large number of Microsoft Dynamics users who incorporate Jet Reports around the globe, the website is organized by familiar Dynamics terms so that everything is easily accessible by the reporting/analytics task at hand, or by the role the individual plays within their organization, or even by the Dynamics product line.
"No matter what your business analytics needs are, that's how we have laid out the site. This will be beneficial to Microsoft Partners as well, who want to educate customers about BI and reporting concepts and topics prior making a final decision about what they adopt," Grant said.
Finally, the intuitive design is easily navigated whether on desktop, tablet or mobile, and uses the latest technology for swift downloads with high retina displays.
About Jet Reports
Jet Reports delivers unparalleled access to data through fast and flexible reporting and business analytics solutions that are cost effective, provide rapid time-to-value, and are built specifically for the needs of Microsoft Dynamics ERP users. Founded in 2002, Jet Reports is headquartered in Portland, OR, and has distribution offices in 14 countries around the globe. Over 10,000 companies in 94 countries, rely on Jet Reports every day for their financial reporting.
Learn more about Jet Reports at: http://www.jetreports.com
-30-
Contact:
Tara Grant
Vice President of Marketing
Phone: 503-608-3644
Email: tarag(at)jetreports(dot)com