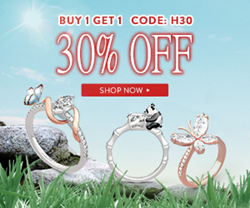 We have established a reputation for its ability to not only create a personalized look but also evoke emotions and create memories that women will cherish for a lifetime.
LOS ANGELES (PRWEB) July 22, 2021
July is the time for Jeulia to give back to the world every year, Jeulia brings a range of premium artisan jewelry for all with a big discount. They have several wide selections of nature themes, including mermaid, marine, animal, hug me, and tree of life, From nature inspired rings to necklaces, each item from the incredible collection of Jeulia is created with utmost love and dedication.
Through this giving back sale, Jeulia will spend $2.00 per unit of sale to world animal protection, Give back to nature, and Oceanic Preservation Society. World animal protection is an animal welfare organization that strives to protect animals in more than fifty countries for the past seven decades. Give back to nature aims to help plant more trees in developing countries. Oceanic Preservation Society is devoted to promoting the preservation of oceans and the planet for a sustainable future.
"We create jewelry that embodies who we are and what we standard for, we established a partnership with three world-changing organizations, doing as much as we can to make our world a better place." said the spokesperson from Jeulia. "In our giving back sale, all customers could enjoy 10% off sitewide & 30% off for the second item." he added.
Jeulia appeals to all to protect our planet. They feel the privilege and duty to give back to organizations that they believe are making a difference in the world. With every charity jewelry you purchase, Jeulia will give back to the outstanding nonprofit partners. Human actions determine human fate, Jeulia believes that they will make a change and embrace a sustainable future.
Jeulia offers Marine Collection and Mermaid Collection to promote the preservation of our Ocean. Tree of Life Collection reminds people of the significance of our nature. Popular Hug Me Collection encourages humans to protect animals in the world. They held that preserve the planet is all human beings' obligation. Everyone is supposed to pay more attention to our environmental issues, Only in this way, can we build a better world.
About Jeulia:
Jeulia is a jewelry brand of sterling silver, offering a range of premium artisan jewelry to women for all types of occasions. The accessory brand takes pride in handcrafting each design in-house at its state-of-the-art studio. Find out details about the 'Giving Back' sale here: https://www.jeulia.com/giving-back.html
Follow Jeulia on social media:
Facebook: https://www.facebook.com/JeuliaJewelry/
Pinterest: https://www.pinterest.com/jeuliajewelry/
Instagram: https://www.instagram.com/jeuliajewelry/
YouTube: https://www.youtube.com/c/JeuliaRings