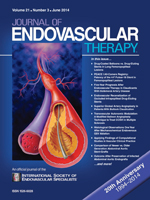 Lawrence, Kansas (PRWEB) June 18, 2014
As technologies advance in endovascular therapy, more options are becoming available for challenging situations, such as long lesions in the superficial femoral and popliteal arteries. Although surgical vein bypass is still considered the standard treatment for the femoropopliteal segment, balloon angioplasty and stenting are emerging therapies. These techniques have shown promise in shorter lesions, and a new study examines their use in longer lesions.
The current issue of the Journal of Endovascular Therapy compares drug-coated balloons and drug-eluting stents for their performance in femoropopliteal lesions measuring 10 centimeters or longer. The retrospective study included 228 patients suffering from peripheral artery disease who were treated between May 2009 and October 2011 at two medical centers. Of these patients, 131 were treated with a drug-coated balloon and 97 were treated with a drug-eluting stent. Both devices contained the drug paclitaxel, which helps prevent restenosis or narrowing of blood vessels after angioplasty/stenting. The combination of an antiproliferative drug with a stent or balloon has already shown promise in the coronary arteries.
Both the balloon and stent therapies performed well in this study. The measures of success included unobstructed flow in the treated artery without further intervention, no worsening of the patient's clinical status according to clinical classifications, and event-free survival. The study found no significant differences between the two treatments for these measures.
Rates were similar for restenosis and retreatment of the target lesion because of restenosis. Almost 24 percent of patients who underwent the drug-coated balloon procedure experienced restenosis and 16 percent required retreatment. Of those treated with a drug-eluting stent, 30 percent experienced restenosis and 19 percent needed retreatment.
A commentary in this same issue points out strengths of the study, including subjects with "real-world" lesions of at least 10 centimeters, a large percentage of patients with restenosis or chronic total occlusions, and the use of ultrasound follow-up at regular intervals, which gave an estimate of restenosis over time. The commentary notes the addition of an antirestenontic drug to these devices offers new advantages for endovascular treatment of peripheral artery disease. The author predicts that these treatments may become the first-line therapy for femoropopliteal artery disease.
Full text of the article, "Drug-Coated Balloons vs. Drug-Eluting Stents for Treatment of Long Femoropopliteal Lesions" and commentary article, Journal of Endovascular Therapy, Vol. 21, No. 3, 2014, are now available.
###
About the Journal of Endovascular Therapy
Journal of Endovascular Therapy, an official publication of the International Society of Endovascular Specialists, publishes peer-reviewed articles of interest to clinicians and researchers in the field of endovascular interventions. The scope of the journal is multidisciplinary, representing all topics related to minimally invasive peripheral vascular diagnosis and treatment. Original clinical studies, experimental investigations, state-of-the-art reviews, rapid communications, case reports, technical notes, editorials, and letters to the editor are published, as well as feature articles on the basics of endovascular interventions. The journal is available online at http://www.jevt.org. To learn more about the society, please visit http://www.isesonline.org.