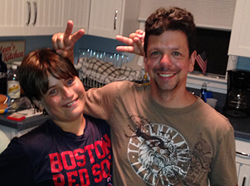 We choose this charity because our fellow thief, and my brother, has Williams syndrome. We see this as a way of giving back.
Boston, Massachusetts (PRWEB) November 10, 2015
The Jewell Thieves, Mike & Nick Jewell, a Boston Massachusetts, independent alternative rock band, are announcing that this holiday season they will donate 100% of all sales of their music downloaded from their Web site, jewellthieves.com, will be donated to the Williams Syndrome Association from November 1st, through December 30th, 2015.
"We choose this charity because our fellow thief, and my brother, has Williams syndrome', explains Mike Jewell. "As kids growing up, we would jam all the time. He is an excellent drummer and never misses a beat. We see this as a way of supporting his love of music and hopefully helping other William syndrome kids get a chance to express themselves."
In addition to the donating all of their sales, the boys will also donate $1 for every new fan on there Jewell Thieves Radio Station and $1 for every new "Like" on the Jewell Thieves Facebook page till the end of the 2015.
MUSIC and WILLIAMS SYNDROME
Most individuals with Williams syndrome have an affinity to music. They are touched by music in ways not usually seen in the general population. It is quite common for those with Williams syndrome to be reduced to tears by classical music, disturbed by music played in minor chords or moved to dance and laugh by playful and "happy" music.
The affinity for music in people with Williams syndrome, especially their sense of rhythm, ability to remember lyrics and hearing sensitivity can be used to help overcome weaknesses. Sometimes the natural affinity for music progresses to excellent music ability. Children may benefit from non-traditional (most individuals play by ear) lessons in piano, drums, voice, or guitar.
WHAT IS WILLIAMS SYNDROME
Williams syndrome (WS) is a genetic condition that is present at birth and can affect anyone. It is characterized by medical problems, including cardiovascular disease, developmental delays, and learning disabilities. These often occur side by side with striking verbal abilities, highly social personalities and an affinity for music.
It affects 1 in 10,000 people worldwide – an estimated 20,000 to 30,000 people in the United States. It is known to occur equally in both males and females and in every culture.
THE WILLIAMS SYNDROME ASSOCIATION
The Williams Syndrome Association (WSA) was formed in 1982 by, and for, families of individuals with Williams syndrome. It is the most comprehensive resource for people and families living with Williams syndrome as well as doctors, researchers and educators. The WSA provides resources, support and the latest medical information to help children throughout their lives.
ABOUT the JEWELL THIEVES & VISIONARY[S]
The Jewell Thieves are a father and son, independent, Boston-based alternative rock band, bringing attention to 11-year-old singer, Nick Jewell and a mix of music styles that make listening to independent music fun. What started out as a side project turned into an opportunity for us to learn, create and entertain friends, family and fans together.
Visionary[s] is an outsourced marketing and communications service that creates and executes strategies that generate growth and awareness for a variety of clients and industries.