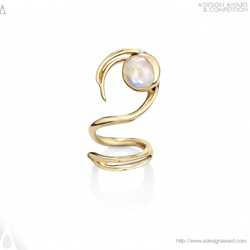 Moon Curve is designed to be a wearable sculpture which changes and flows each time the wearer moves.
Como, Italy (PRWEB) July 20, 2014
A' Design Award and Competition is pleased to announce that the ring design "Moon Curve" by Mary Zayman has been awarded with the prestigious Silver A' Design Award in A' International Jewelry, Eyewear and Watch Design Competition.
More information on Moon Curve
Mary Zayman, the designer of the award-winning ring design "Moon Curve", said, "The natural world is in constant movement as it balances between order and chaos. A good design is created from the same tension. Its qualities of strength, beauty and dynamism stem from the artist's ability to remain open to these opposites during the act of creation. The finished piece is the sum of countless choices the artist makes. All thought and no feeling will result in work that is stiff and cold, whereas all feeling and no control yields work that fails to express itself. The intertwining of the two will be an expression of the dance of life itself." Learn more about this ring design: http://www.adesignaward.com/design.php?ID=33563.
.
The Silver A' Design Award
The Silver A' Design Award is a prestigious award given to top 5% percentile designs that has attained an exemplary level of perfection in design. Entries to the A' Jewelry Design Awards are evaluated by an expert jury panel composed of leading scholars, international design professionals as well as prominent press members. Laureates of the A' Design Award & Competition are provided a series of PR and publicity services to celebrate the success of winning the accolades such as press kit preparation and distribution as well as interviews with the award-winning designers. Furthermore, exhibition of awarded works and the glamorous gala night and award ceremony are held in Italy where all winners are cordially invited to receive their award winners' kit which includes the exclusive 3D metal printed trophy, hardcover yearbook annual of best designs, design excellence certificates and more.
About A' Design Award and Competition
A' Design Award & Competitions were established to create a global awareness of good design practices and principles. Entries are accepted in all design disciplines as industrial categories in order to push designers, artists and architects worldwide to create superior design projects that benefit mankind. Learn more at: http://www.whatisadesignaward.com.