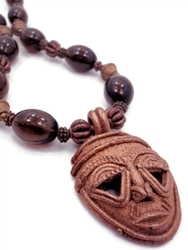 I love that each necklace varies slightly due to the handmade nature of the mask.
Calgary, Alberta, Canada (PRWEB) November 12, 2015
Andrea Kelly, designer/owner, Jewelry by Andrea (http://www.jewelrybyandrea.com) is pleased to announce that her "The Masks We Wear" necklace was worn by character Dr. Temperance "Bones" Brennan (actress Emily Deschanel) on Episode 11:6 of the FOX Network's "Bones." The episode, "The Senator in the Street Sweeper," aired November 5, 2015.
Andrea's design was selected for use by "Bones" wardrobe stylists, who discovered the jeweler's work as a result of receiving a The Artisan Group® Stylist Gift Bag last year. "Emily Deschanel wore the piece throughout the episode," noted Andrea. "I couldn't be more thrilled and am grateful to The Artisan Group for this amazing opportunity to showcase by designs."
The "The Masks We Wear" necklace is 18 inches long and features a Fair Trade Tribal Mask from Ghana. Smoky quartz and antiqued beads complete the look. It retails for $150 CDN at jewelrybyandrea.com.
When the opportunity arose to submit a piece of jewelry for consideration of use on the show, Andrea set pencil to sketchpad to work out design ideas.
"I came across these amazing hand-made Ghana mask components and, knowing Bones' anthropological bent, it seemed that a design incorporating them would be totally appropriate," said Andrea. "Due to the handmade nature of the masks, each "The Masks We Wear" necklace has its own special feeling. The combination of brass and copper tones in the mask and the beads give this piece a powerful look and feel. Plus, smoky quartz brings endurance and grounding energy – properties that Bones would certainly appreciate."
Andrea finds inspiration in cultures, customs and rituals from around the world, especially eastern cultures, and enjoys researching the meaning of the various symbols she incorporates into her jewelry. She finds it grounding to use these symbols in her work, seeing in them a reassuring connection to the past. As for her customers, she believes that the meaning they take from the pieces they purchase is very much related to their own personal journeys.
Andrea creates out of her studio in Calgary, Alberta, Canada. Regarding her design process she remarks, "My best creative energy comes from my regular Yoga practice. I love to do a morning class and then take time to create new designs with no end goal in mind. In fact, my best pieces come when I allow myself to wander through the creative process."
Andrea is an accomplished jewelry designer who has had designs worn on The Vampire Diaries, and published in "British Vogue", "YogiApproved", "Boca Life", "Equanimity", "Bead Trend Magazine" and "Good Life Connoisseur Magazine."
Andrea notes her typical customer is interested in yoga, travel, spirituality and eastern philosophy and says, "My customers lead interesting lives and I enjoy designing for women who want their jewelry to help tell their story."
To learn more about Jewelry by Andrea, contact Andrea Kelly by phone or email Become a fan on Facebook (@TheJewelryByAndrea) and Twitter (@jewelrybyandrea).
Shop Jewelry by Andrea at JewelrybyAndrea.com.
ABOUT JEWELRY BY ANDREA
Jewelry by Andrea (http://www.jewelrybyandrea.com) offers handmade Tribal, Zen, Goddess and Yoga jewelry. Designs take the viewer on a vicarious journey around the world. Collections feature Fair Trade materials from Nepal, Tibet, Thailand, Ghana and Ethiopia. Spiritual items such as Mala Beads, Buddhas, Hamsa, Prayer Boxes and Oms can be found throughout the designs – each piece is as individual as the wearer. Designs feature traditionally made items blended with semi-precious gemstones, shells, pearls, wood and other earthly creations, resulting in sophisticated and bold selections.
Collections feature Created in Canada necklaces, bracelets and earrings.