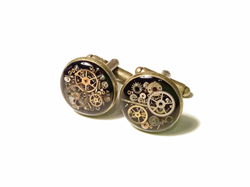 These recycled watch part, steampunk-inspired cufflinks have amazing detail from every angle.
Phoenix, Arizona (PRWEB) April 09, 2015
JewelryFX (http://www.jewelryfxplugs.com) will participate in GBK's 2015 MTV Movie Awards Weekend Gift Lounge, in association with The Artisan Group®, where its popular steampunk-inspired jewelry will be on display and its brass-accented, recycled watch part cufflinks will be gifted to celebrities attending the event. The Gift Lounge is by-invitation-only and will take place April 10-11, 2015 at an exclusive location in Hollywood, California.
Cyndi Oesterreich, designer and founder of JewelryFX, lovingly handcrafted all the gifted and display pieces especially for this prestigious event. Each pair of men's cufflinks is one-of-a-kind and showcases high quality, genuine watch parts. Says Cyndi, "I wanted to gift jewelry that would be unique and represent my creative spirit. These cufflinks do just that. They have amazing detail from every angle and are perfect for accenting a steampunk outfit or spicing up a work-a-day wardrobe."
The cufflinks will be gifted to celebrities in a gold organza bag. They retail for $39.00/pair and are available to purchase at JewelryFXplugs.com.
JewelryFX will have on display at the Gift Lounge a steampunk-inspired bracelet, two pendants and a set of cufflinks.
JewelryFX is known for its steampunk jewelry but also its elegant plugs, studs, gauges and necklaces, which are designed for every day wear, special occasions, formal events and when something work appropriate is called for.
"When I started gauging my ears ten years ago, work environments were very different," remarked Cyndi. "This type of body modification was frowned upon and I started to look for ways to cover up or hide my plugs. That's really how JewelryFX was born. I figured, if what I wore looked like regular earrings, then there would be no concerns about violating policies. It turned out I was not the only one looking for this kind of compromise, and so I founded JewelryFX, which took off immediately. Within a short time, I was also selling to brides-to-be, those who wanted to hide their lobes in photographs and so forth."
The company's most popular designs are its Swarovski Elements Plugs and Pearl Plugs, which have a beautiful, traditional look, only larger.
To learn more about JewelryFX, contact Cyndi Oesterreich by email or visit jewelryfxplugs.com. Become a fan on Facebook (@jewelryfx), Twitter (@jewelryfx) and Instagram (@jewelry.fx) and follow the company's boards on Pinterest (@jewelryfx). For press inquiries regarding The Artisan Group, visit theartisangroup.org.
About JewelryFX
JewelryFX (http://www.jewelryfxplugs.com) specializes in elegant plugs, studs, gauges, and necklaces, as well as one-of-a-kind steampunk-inspired jewelry. Whether for it is for every day, special occasions, formal events, or just something a little more "work appropriate," JewelryFX is ready to help.