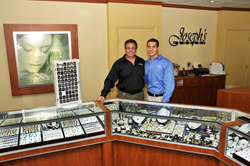 Jewelry Store in Stuart, Fl Offers Complimentary Engagement Ring Resizing
Stuart, Florida (PRWEB) October 30, 2014
One jewelry store in Stuart, FL is making the engagement ring buying process a lot easier by offering complimentary ring resizing on all engagement rings during their upcoming Bridal Event. This engagement ring store just so happens to be Joseph's Jewelry, which is located right before Salerno Road. This fantastic event starts November 6th 2014 and ends November 15, 2014. Joseph's Jewelry is hosting this year's event at their Stuart location during normal store hours. Interested can visit http://www.jewelryofstuart.com/engagement-ring-stuart-fl/ or call 772-214-1995 for more details.
Joseph Napoli is the owner of Joseph's Jewelry. This is what he had to say about this fantastic engagement ring resizing promotion.
"Joseph's Jewelry is where the Treasure Coast gets engaged and that's why we're having our annual Bridal Event for our customers. Typically a proposal is a surprise, so the person that's going to propose comes into the store alone to buy the engagement ring. Sometimes that person has an idea of the correct ring size, but sometimes they don't.
During our Bridal Event all of that doesn't matter, because anyone whoever is about to propose can come in and buy an engagement ring and have is resized at no extra cost if it doesn't fit. It's also the perfect opportunity to purchase a wedding band, or upgrade a setting, because we have special pricing on all things bridal during this event. Anyone who comes to Joseph's for an engagement ring will have an excellent time, because we have the largest selection of jewelry on the Treasure Coast at the very best prices. Our customer service is unmatched and that's why people choose us to help them find the very best engagement ring. In fact, some customers have made their proposals in the middle of past bridal events and we would be glad to see more at this year's event. "
Joseph's Jewelry is a very special jewelry store in Stuart, Fl. Owners Joseph and Michael Napoli pride themselves on having the largest selection of fine jewelry, gold, colored stones, watches and diamonds jewelry on the Treasure Coast. They have been in business since 1990 and have an unparalleled engagement and bridal department. Customers can also go to Joseph's for beautiful custom pieces and dependable jewelry repair work. They'll be sure to receive the very best jewelry for a fair price.
This promotion is only valid for the resizing of engagement rings from Joseph's Jewelry and can only be used during the bridal event. Customers who would like to get their engagement ring resized can visit JewelryofStuart.com to take advantage of this exclusive offer today. This offer is not valid with any other current promotions and ends November 15, 2014.
Anyone who is looking to purchase an engagement ring would be wise to visit Joseph's Jewelry during their Bridal Event. They won't have to pay for the resizing and they can use this as an opportunity to propose marriage to their sweetheart. Love is definitely in the air at this Stuart, FL engagement ring store.
Contact Information:
Joseph's Jewelry
5250 SE Federal Hwy Stuart, FL 34997
(772) 221-1779
http://jewelryofstuart.com
This press release was created for Joseph's Jewelry by Local SEO Services for Businesses (http://localseoservicesforbusinesses.com)