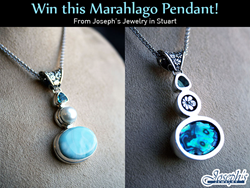 Jewelry Store in Stuart, FL Raffling Off Marahlago Pendant During the Month of October
Stuart, Florida (PRWEB) October 25, 2014
People who want to get a head start on their holiday gifts have reason to rejoice, because one Stuart, FL jewelry store is raffling off a reversible Marahlago pendant. Anyone who is interested in participating can visit the Facebook page of Joseph's Jewelry for a chance to win this beautiful Marahlago pendant. Contestants must be 18 years of age or older to enter. This jewelry contest will run through the month of October and the winner will be announced on September 1, 2014. More information is available on http://jewelryofstuart.com/.
Joseph Napoli is the owner of one of the most popular jewelry stores in Stuart, FL. This is what he had to say about this month's contest:
"It's autumn already and the holidays will be here sooner than most people think. What better way to thank everyone who recently voted us the #1 jewelry store on the Treasure Coast than by having a Marahlago jewelry giveaway. The lucky winner will find out September 1st, 2014 if they have won this lovely Marahlago pendant. All entries must be received by October 31, 2014. Whether they keep it for themselves or give it as a Christmas gift to someone else is up to them.
This contest can be entered directly on the store's Facebook page by clicking on the link in one of the posts about the contest. Marahlago jewelry provides the very best larimar pendants, rings, and bracelets and that's why it was chosen for the raffle. The style and beauty of the pieces are magnificent and are like having a little bit of the sea. If this raffle is a success there's a good chance that we'll do another one next year."
Joseph and Michael Napoli are the owners of Joseph's Jewelry, a family owned and operated jewelry store in Stuart, FL. They provide a dazzling array of gold and gemstone necklaces, pendants, earrings, and rings, as well as an extensive selection of diamond engagement rings, wedding bands, and pearl bridal jewelry. They are one of the most popular jewelry stores on the Treasure Coast and have been winning loyal customers since 1990. They also provide a full line of jewelry repair and engagement ring resizing services. Visit jewelryofstuart.com to find out more.
This Marahlago pendant giveaway ends October 31, 2014. Contestants must be atleast 18 years of age to enter. All entries must be made on Facebook. The winner will be notified via email on September 1, 2014. A general announcement will also be made on Facebook on the same day. The winner can pick up the pendant at Joseph's Jewelry convenient Stuart, FL location. This contest is not open to past or present employees of Joseph's Jewelry or their friends or family members.
This Marahlago jewelry raffle is sure to brighten up someone's holiday. It's nice to think that this pendant may end up under someone's Christmas tree this year. This is just another example of why Joseph's Jewelry is such a popular jewelry store in Stuart, FL.
Contact Information:
Joseph's Jewelry
5250 SE Federal Hwy Stuart, FL 34997
(772) 221-1779
http://jewelryofstuart.com
This press release was created for Joseph's Jewelry by Local SEO Services for Businesses. (http://localseoservicesforbusinesses.com)