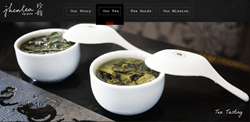 Those wishing to enjoy an authentic cup of premium tea can currently order a selected variety via phone at 1 347 591 759 or via the form provided on the website, with e-store functionalities being made available soon.
New York City, NY (PRWEB) August 29, 2013
The new design of Jhentea's popular website, located at http://www.jhentea.com, now adds customer purchase features for prompt shipment of Taiwanese premium quality organic leaf tea selected by some of the world's most experienced tea masters, for the sipping pleasure of customers from the United States. Thus, those wishing to enjoy an authentic cup of healthy tea can currently order a selected variety via phone at 1 347 591 759 or via the form provided on the website, with e-store functionalities being made available soon.
The Jhentea website not only specializes in offering the world's finest grade of oolong teas, but has also introduced several exciting new Jhentea products. Website visitors can now order Tea Oil, produced using the time-honored traditional press method which enables the oil to contain the highest concentration of nutrients to promote good health and longevity. All of Jhentea's original premium tea products as well as the newest tea-based product introductions are backed by the company's sustainable practices and the guarantee of quality and satisfaction.
The newly refashioned website symbolizes the cultural significance of Taiwanese tea and enables the website visitor to discover the detailed and interesting history behind the Jhentea brand and its knowledgeable tea masters, which has its historic roots as far back as the mid 18th century.
The newly premiered and redesigned Jhentea website offers the high mountain tea lover even more opportunities to incorporate the highest quality organic Taiwanese tea into their daily menus, meditations and celebrations. According to Kuei Chen Fang, the founder of Jhentea, one of the most exciting features offered on the newly designed website is an extensive Tea Guide. "We are very proud to premiere this new Tea Guide on the Jhentea website because it represents one of the most creative and comprehensive resource guides for new as well as veteran tea drinkers. In addition to offering suggestions for making the most delicious pot of freshly brewed organic leaf tea in the comfort of your own home, the Tea Guide also offers a variety of tea recipes to encourage our customers to be as creative as possible in going beyond the boundaries of simply sipping pure tea. The recipe for Champagne infused with Oolong Tea is already creating quite a sensation among our customers who love the idea of blending the tradition of drinking tea with the celebration associated with serving champagne," said Mrs. Chen.
The launch of the newly designed website comes after another big change within Jhentea: in 2012 Kuei Chen Fang transposed her passion for sustainable architecture into the redesign of the family tea store in Taiwan, which has been in the same location since 1978.
Where upcoming changes are concerned, apart from the e-commerce functionalities, customers will be greeted with additional novelties to Jhentea's product range and website. Other new products being introduced in the user-friendly website will include several new tea based products such as herbal black tea and tea-based natural dishwashing liquid. Additionally, Mrs. Chen is currently focusing on designing Jhentea's packaging around her sustainability beliefs.
For more information about Jhentea, visit http://www.jhentea.com.
About Jhentea
Jhentea's history began before the 1850s and to this day it offers organic high mountain loose tealeaves to customers who appreciate authentic tea culture and sustainable farming. The company aims to incorporate right timing with Taiwan's geographical advantage and the skills and experience of its tea masters, to always create a unique experience for every sip of Jhentea. Thus their slogan is "Behind every sip is an experience!". Even though the company specializes in oolong tea, it also offers tea oil and other varieties of high quality tea.