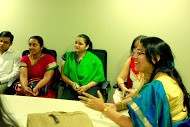 We wanted an opportunity for our students to freely interact with the Jigsaw faculty and their peers in the analytics industry.
Bangalore, India (PRWEB) September 26, 2013
The well renowned online analytics training institute, Jigsaw Academy began a tradition of sorts when it hosted its first ever social for students, alumni, faculty and staff on September 14th, 2013. Students from Bangalore and even the US and Singapore attended this event.
"We wanted an opportunity for our students to freely interact with the Jigsaw faculty and their peers in the analytics industry," said Gaurav Vohra, CEO and co founder of Jigsaw Academy. "In a informal environment, it is very conducive to share experiences and get insights from each other," Gaurav continues.
"The aim of organizing such a gathering was also to foster a sense of community within the Jigsaw family," said Sarita Digumarti, co founder and one of the chief trainers at Jigsaw.
The morning began with a round of introductions which led directly into a lively discussion about the analytics job market. As students and alumni began sharing their experiences, the faculty were able to offer some advice and predictions about the booming growth in the industry.
Jigsaw faculty member Subhashini Tripati moderated an informal session on analytics placements. This was very well received by the students as they were able to get many of their questions answered. "The session with Subhashini was really interesting and useful. She gave us some very good tips about how to find analytics job postings and customizing resumes to job profiles," said Jigsaw student Swathi Munikoti who attended.
The first social being such a success just means that this is a tradition that Jigsaw hopes to continue. With students spread out across the country and even around the world, Jigsaw hopes to organize many more such interactions to bring their students, faculty and staff together.
Jigsaw Academy is a Bangalore based analytics training company that is run by analytics professionals. Their courses are designed and delivered by industry experts who have applied analytics to solve business problems in a variety of fields like retail, FMCG, financial services, telecom and health care. The instructors use their real-world experiences to teach analytical skills that are most valuable at the work place. Their flagship course called the Foundation course in analytics has been taken by thousands of students across the globe and has helped launch many careers in this new and exciting field. They also conduct analytics training workshops in B schools across the country, including IIM Bangalore and train corporates in analytics tools and techniques.