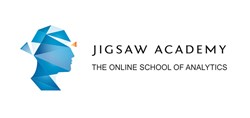 The overall curriculum of Jigsaw Academy is well designed & structured. One of the unique feature of the course is the accessibility of on-line course materials/classes & easy approachability of faculty.
Bangalore, India (PRWEB) February 13, 2014
This month Jigsaw Academy marked the launch of its offerings in Singapore with a new regional website which offers details about the course, as well as relevant and in demand information about data analytics and careers in data analytics. A local customer phone line will also be now available for customers in Singapore.
"We are an online training company and since our inception, we have had several students from Singapore. Over the last year we noticed that Singapore was becoming very data oriented and we felt that having a dedicated Singapore website with targeted courses for the Singapore market would bring in many more clients from the region," says Gaurav Vohra, CEO and founder of Jigsaw Academy.
To start with Jigsaw Academy is offering two courses, Foundation Course in Analytics with SAS and Data Scientist with R. These courses are open to anyone who want to pick up data analytics and big data analytics skills to further their career, as well as for those who want to become data scientists. Anybody can enrol for this course. No prior knowledge of Statistics, R or analytic techniques is required. The objective of these courses is to enable students to use statistical techniques to analyze data, to make better business decisions.
The Foundation Course in Analytics with SAS focuses on teaching statistical concepts, analytical skills and analytic tools like Excel and the language of SAS.
The Data Scientist with R course focuses on teaching statistical concepts, predictive analytics skills and analytic tools like R and Hadoop.
As with all their courses Jigsaw offers a choice of two delivery methods. One is the Video based training where participants get access to about 40 hours of pre-recorded video lectures & 20 hours of pre-recorded classroom training. The video course includes faculty support via email and phone.
The second method is the Instructor led training which includes live, weekend sessions with the faculty in the virtual classrooms. You can interact with the faculty and get all doubts cleared in these sessions.
Participants also get access to the popular Jigsaw Learning Center which has a plethora of supplemental resources - Reference materials and handouts on SAS, SAS training guides and white papers for a period of 6 months.
Another key Jigsaw advantage is the Virutal Lab, which allows students to experience working in a unique cloud-based lab, on real life retail business datasets for 20 weeks.
Jigsaw Academy has students from over 20 countries and their faculty are industry experts sourced from across the globe.
"The overall curriculum of Jigsaw Academy is well designed & structured. One of the unique feature of the course is the accessibility of on-line course materials/classes & easy approachability of faculty," says Sachin Arora, an Analyst based out of Singapore who recently did the Jigsaw foundation course.
The courses are priced at USD 650 (Video) and USD 900 (Instructor Led). As an introductory offer Jigsaw Academy is offering a discount of USD150 on both its video and instructor led courses for those who register before 23 Feb, 2014.
All those interested and who need more information can attend a free information session by visiting our website.
About the company
Jigsaw Academy is a Bangalore based analytics training company that is run by analytics professionals. Their courses are designed and delivered by industry experts who have applied analytics to solve business problems in a variety of fields like retail, FMCG, financial services, telecom and health care. The instructors use their real-world experiences to teach analytical skills that are most valuable at the work place. Their flagship course called the Foundation course in analytics has been taken by thousands of students across the globe and has helped launch many careers in this new and exciting field. They have recently completed analytics training workshops in B schools across the country, including IIM Bangalore. Jigsaw Academy also does corporate trainings.
Website: http://www.jigsawacademy.com
Blog: http://www.analyticstraining.com
Mail:info(at)jigsawacademy(dot)com
Phone: Singapore: +65-31586669
India: +91-9243522277