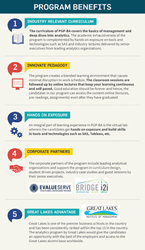 The course coverage is quite exhaustive and in depth. The professors are knowledgeable and coach very well. Overall the programme is good and is getting executed well.
Bangalore, India (PRWEB) March 04, 2014
Following the success of the first batch of the Post Graduate Programme in Business Analytics (PGP-BA) in Gurgaon, Jigsaw Academy a premier online analytics training institute, and Great Lakes Institute of Management will now offer their program from the Great Lakes Chennai campus as well.
Great Lakes is one of India's most respected business schools and has been consistently ranked within the top 20 in the country. It is also the only business school in India to set up a dedicated Centre of Excellence in Analytics, which has been established with support from leading analytics companies and is dedicated to cutting edge research and training for talent development for the analytics industry. Their partner Jigsaw Academy, is a world renowned analytics training academy that provides industry-relevant e-training and education in the field of data science and analytics. Jigsaw's award winning courses are a unique blend of statistics, statistical tools and industry knowledge; all taught through real life examples.
The Great Lakes Jigsaw Academy PGP-BA is designed for executives who want to build their careers in the analytics industry. The programme covers the essentials of business management as well as all the essentials of business analytics while providing hands on training on analytic tools and technologies used by companies worldwide.
The curriculum provides a detailed study in analytics along with covering general management subjects and specialized domain areas such as Retail, BFSI, Healthcare, E-commerce and Energy. The courses are taught by eminent faculty from Great Lakes and senior executives from leading analytics companies. The programme provides the candidates with hands on exposure to tools such as SAS, Tableau and actual industry case studies through virtual labs, assignments and project The blended delivery model (classroom and online) of the programme makes it convenient for working professionals to attend classroom sessions without having to quit their jobs and also, pace their learning through online sessions.
Other than the hands on exposure participants will get through regular practical assignments they will also be required to do an industry project which would involve working on an actual industry case study.
The highlights of the programme are:

The Programme duration is 11 months, with the participants spending 5 days (including weekend) every alternate month on campus.
Between successive contact sessions, participants would take online classes and access other learning material (assignments, readings, recordings, hands on SAS lab exercises, etc) using an online learning management system.
In terms of number of hours, the Programme would be spread across 240 hours of classroom sessions and about 150 hours of online learning (using recordings, webinars, virtual lab, assignments and project).
"The course coverage is quite exhaustive and in depth. The professors are knowledgeable and coach very well. Overall the programme is good and is getting executed well." says a student of this programme, Lakshmi Prabha who works as a Program Manager at HCL.
For more information, please visit the Jigsaw Academy website. Interested candidates with a graduate degree, a minimum of two years work experience and a keen interest in analytical problem solving can write to info(at)jigsawacademy(dot)com for more information. The next batch of PGP-BA from Chennai campus will begin on May 2, 2014.
About the company
Jigsaw Academy is a Bangalore based analytics training company that is run by analytics professionals. Their courses are designed and delivered by industry experts who have applied analytics to solve business problems in a variety of fields like retail, FMCG, financial services, telecom and health care. The instructors use their real-world experiences to teach analytical skills that are most valuable at the work place. Their flagship course called the Foundation course in analytics has been taken by thousands of students across the globe and has helped launch many careers in this new and exciting field. They have recently completed analytics training workshops in B schools across the country, including IIM Bangalore.
Website: http://www.jigsawacademy.com
Blog: http://www.analyticstraining.com
Mail:info(at)jigsawacademy(dot)com
Phone: Singapore: +65-31586669
India: +91-9243522277