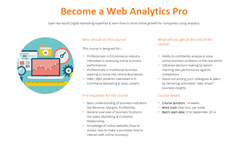 The Web Analytics course is holistic. It covers innovative KPIs for various online business functions, data strategy, measurement frameworks, analysis and interpretation for business actionables.
Bangalore, India (PRWEB) September 18, 2014
Jigsaw Academy, the renowned online analytics training academy has a new analytics course on their menu. Their recently launched web analytics course is aimed at all those who are interested in a career in web analytics. The course is designed to help one gain some real-world digital marketing expertise while teaching how to drive online growth for companies using analytics.
The course was developed with the help of Harikrishnan Srinivasan, a web analytics and digital marketing expert, with experience in domains including e-commerce, travel, health care, online training and HR. Hari has over 20 years of experience in information services and technology – with leading companies including Verizon, Cognizant and Wipro.
Jigsaw's Web Analytics Course is unique in its offerings, as compared to others in the market while at the same time offering quality content, a user friendly learning platform, and the virtual lab where students get to practice on real life data sets. The main differentiator of this particular course is the business perspective it offers its students.
"Traditional Web Analytics training is focused on tool functionality (configuration, report creation and customization) and data reporting (like visitors per day, bounce rate, time on site, conversion rates). The Jigsaw Academy program will prepare web analysts to solve for real world business decisions – like audience selection, media planning, campaign messaging, channel spends, brand awareness, sales, customer retention, etc. The program is holistic – covers innovative KPIs for various online business functions, data strategy, measurement frameworks, analysis and interpretation for business actionables." says Harikrishnan Srinivasan, who developed the course along with the team at Jigsaw.
The Jigsaw Web Analytics Course is for professionals in the e-commerce industry interested in assessing online business performances (SEM, SEO, social media) or those in traditional business aspiring to move into online businesses. It is also a great career enhancer for MBA / BBA students interested in getting that edge and furthering their career in e-commerce marketing and sales.
Other Course Details:
Course duration: 14 weeks
Work load: One hour per week
Batch start date: 21st September 2014
You can also experience how Jigsaw's courses work and get access to some really useful ebooks and other resources by signing up for a free trial.
About the company
Jigsaw Academy is a Bangalore based analytics training company that is run by analytics professionals. Their courses are designed and delivered by industry experts who have applied analytics to solve business problems in a variety of fields like retail, FMCG, financial services, telecom and health care. The instructors use their real-world experiences to teach analytical skills that are most valuable at the work place. Their flagship course called the Foundation course in analytics has been taken by thousands of students across the globe and has helped launch many careers in this new and exciting field. They have recently completed analytics training workshops in B schools across the country, including IIM Bangalore.
Website: http://www.jigsawacademy.com
Blog: http://www.analyticstraining.com
Mail: info(at)jigsawacademy(dot)com
Phone +91-9243522277