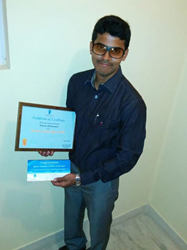 Kamraj is a student who not only finished the course in a very short time frame but demonstrated consistent high performance by handling difficult case studies. He worked on all the feedback given to him.
Bangalore, India (PRWEB) December 24, 2014
Jigsaw Academy, the online school of Analytics and Big Data has just announced that Kamraj Subramaniam is the winner of their 2014 Student of the Year Award. The award was presented to Kamraja at the Jigsaw Academy head office in Bangalore. Along with a certificate of excellence, Kamraj also won a voucher from Jigsaw Academy.
This was part of a new initiative by Jigsaw Academy to recognize and honor the best of the best. The faculty and others from the support and student experience team nominated a few of their best students for the Jigsaw Student of the Year Award. The selection committee then evaluated each nominee based on several criteria like timely submission of assignments; good feedback from faculty/student experience team/support team; extraordinary efforts in taking up Jigsaw projects and good grades. Though it was a tough decision, the undisputed winner was Kamraj Subramanian!
Speaking at theaward ceremony Sarita Digumarti, co founder of Jigsaw Academy made a short speech where she talked about what an exemplary student Kamraj was. "His enthusiasm and motivation is remarkable and his drive and thirst for learning is an inspiration for us all." she said.
Kamraj is an Energetic computer science engineer with media sales and marketing experience. While doing his under graduation, he got involved in his dad's business and began working as a media marketing executive. On graduating he continued to work in the family business Cauvery Times as Head of Marketing and Sales in Trichy.
Kamraj is not just analytics savvy. He is an avid sportsman who has played a lot of cricket for his school and college cricket teams where he excelled as an opening batsman and leg spinner. He has also won several medals for his school and college swimming teams in zonal and inter zonal competitions.
From his younger days, Kamraj showed interest in the field of sales and marketing, as he always thought that he was good with promoting a business. He worked as a marketing executive, in Trichy, Tamil Nadu, in his family run weekly neighborhood newspaper "Cauvery Times" throughout his under graduation. On graduation, he was offered the role of head, sales and marketing, which he accepted.
When asked what got him interested in analytics, here's what Kamraj had to say. "After graduating, having heard of the analytics boom, I began reading and exploring the industry and was hooked. I decided to pick up some analytics skills and joined Jigsaw Academy for the Foundation+Data Scientist video combo course in July 2014. In November I also completed the Fraud Analytics course. My hard work and fortitude paid off and my goal of becoming a successful Business Analyst has just come true. I recently got placed at Noah Data Technologies, Chennai as a Data Analyst."
"The Jigsaw courses gave me good knowledge on basic concepts of statistics, predictive modeling with SAS and R tools and I learnt how to deal with real time data. The variety of the data sets used in the assignments and the kind of environment created by the Jigsaw faculty and supporting staff made the coursework even more interesting. The faculty at Jigsaw have so much of prior work experience in the field of Analytics. Other than the technical side these experienced professionals at Jigsaw taught me how to become a successful data analyst." continues Kamraj.
"Kamraj is a student who not only finished the course in a very short time frame but demonstrated consistent high performance by handling difficult case studies. He worked on all the feedback given to him and was able to turn around with improvement in a short span. He had a creative perspective in solving the assignment questions which are not very straight forward and tried different approaches for the sole purpose of learning the subject. Very hard working and a curious student and delight for every teacher." says Neha Shitut, a faculty at Jigsaw that mentored Kamraj.
Jigsaw Academy once again congratulates Kamraj and wishes him the very best in his career. It is hoped that his story will inspire many and that others will realize that Data Analytics can really be the game changer in their careers. The key is in taking those steps to get skilled in industry relevant skills and working hard.
About Jigsaw Academy
Jigsaw Academy, the online school of analytics and Big Data, has trained over 10,000 students across 20+ countries in the most widely used industry-relevant data analytics tools and techniques. Our founders have over 25 years of combined experience in consulting and analytics across multiple industry verticals in India and the United States.
Our vision of offering an industry-relevant curriculum has led to innovative partnerships with leading academic institutions such as SDA Bocconi in Milan, Italy, Great Lakes Institute of Management in Chennai, and the Indian Institute of Management in Bangalore. As our award winning courses are well recognized in the industry, Jigsaw is the approved analytics training partner for many large organizations, including Accenture, Infosys, and Genpact.
Website: http://www.jigsawacademy.com
Blog: http://www.analyticstraining.com
Mail: info(at)jigsawacademy(dot)com
Phone: +91-9243522277