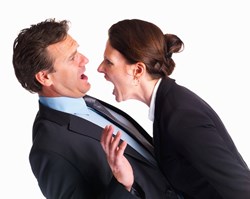 Dallas, TX (PRWEB) December 08, 2013
Carlton's Training Solutions has seen a rise in Workplace Bullying in 2013 over 2011 and 2012. Whether it is a manager or fellow employee, workplace bullying is an issue that can cause great stress. The majority of cases involve a supervisor. The tactics can involve verbal or physical abuse as well as humiliation. Carlton's Training Solutions has sustained a reputation for promoting programs that help put an end to workplace bullying.
The obvious cases of workplace bullying identified by Jim Case Carlton's Training are the hazing or rituals reserved for new employees or those that are different from the tormentor. But in today's society the disrespectful and devaluing of an individual can take place in many different forms that are more subtle but no less infuriating and harmful.
Bosses that are workplace bullies often use a process of micromanagement to harass an employee. They will give them tons of tasks or check in on every little detail to harass the employee. Often times they will do so in the view of fellow employees to lower the employee's value so that other employees feel less respect for them. They may also over work them to the point of exhaustion to try to intimidate them. Carltons Training Solutions has identified these actions as the most prevalent forms of workplace bullying that goes on in the workplace today.
Stealing credit for an employees work can be another destructive form of workplace bullying. Not only does the employee face ridicule and disrespect from their aggressor but also their work is stolen from that person that can lead to promotions and financial reward that should be theirs. Carlton's Training Solutions has identified key ways to avoid these situations and how organizations need to address these issues.
Carlton's Training Solutions advises that keeping calm and not exploding is a key factor in avoiding the true pitfalls of workplace bullies. When an employee loses it, they become the aggressor and it cannot just cost them their work but now their job. When dealing with a workplace bully, employees must expect that it will occur again so they may deal with it. They should also be practical and alert their human resource director as to what is going on so there is a record made of occurrences.
Letting the workplace bully know that their behavior is harassment turns out to be a keyword to trigger some caution on their part. The term harassment lets them know that this isn't a ritual or hazing but something they are now being held accountable for. Carlton's Training Solutions has served and advised organizations on workplace bullying issues for 13 years with success in the fields of Healthcare, Government and the private sector.