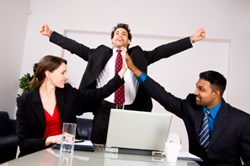 San Antonio, TX (PRWEB) December 09, 2013
Jim Case Carlton's Training has made their way in the corporate training world by helping organizations train employees for the jobs they are to perform. But the human skills involved in human resources can sometimes cause conflict. Who teaches employees how to get along with each other? With more and more hours spent at work, some of these people are seen more than loved ones at home. Carlton's Training Solutions has some interesting perspectives on how to make work a happier place.
Hold no grudges. Jim Case Carlton's Training has seen people at work become confidants, friends, spouses, and unfortunately rivals and enemies. With forty to seventy hours a week spent at the same location there is bound to be some conflict. The key is to find common ground and let things go. There is always that time for reflection to appreciate a co-worker for the things they've done rather than the one thing they did not do. That time is when they do something that really makes the day brighter. Holding a grudge holds people back.
Don't contribute to negativity. Whenever there is negative gossip in the workplace there is the natural impulse for people to to add their two cents and make a comment or two. This of course creates more bad comments until the person being talked about is a villain. Instead, change the subject. Discussing the new wing of the building might be a good positive conversation starter that can change the way people perceive the person discussed and those not contributing to the negativity.
Thank co-workers. Even for the small stuff. People do more for praise than they'll ever do to avoid scrutiny. Nothing makes someone feel like they are important or connected to others than a warm thank you. Carlton's Training Solutions has engaged with workplaces of all types and has seen that in Healthcare, Government, White Collar or Blue Collar that a thanks and appreciation of fellow co-workers goes a long way. The synergy created by appreciation creates more and soon not only are co-workers acting like team members but also friends.
Jim Case Carlton's Training has worked for thirteen years to cultivate positive workplaces across the globe. The programs they create on leadership, management and ethics empower the people within organizations. Promoting a happier workplace means creating a more productive atmosphere. And that is something that Carlton's Training Solutions has dedicated over a decade to achieve.