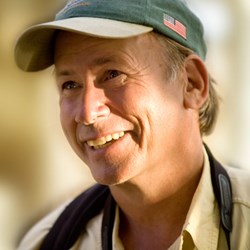 Dallas, TX (PRWEB) August 24, 2013
Work is generally monotonous and is simply a way to pay for the car that takes the kids to school and to take one to work again to feed the kids. Then why are there people out there who seem to enjoy their work? People who talk about it on the weekend and happily tell grand stories to friends about work. Are they insane? No, they've found creativity in their work.
Dewitt Jones is a photographer. A world-renowned photographer of famed magazine National Geographic. But he is photographer. What he doesn't know about the business world is astounding. What he does know will change how everyone looks at their job for the next twenty years to come.
The program that Jones first documented his beliefs in is called Everyday Creativity. This program is about finding joy in work everyday. Jones would be out on location and even though it's a different location it's the same thing. Take an interesting picture that properly depicts what this place is all about. But this too can get monotonous. But Jones found a way for it not to be that way.
Jones applies a strategy that he now uses in all his sold out lectures across the country. Businessmen with years of experience and degrees from Wharton come to see this man to try to find the joy in what they do again. The pursuit of the dream can leave one dry and empty at times and Jones seems to be the remedy for a lot of these people.
He developed a strategy to do the job in his program For the Love of It. In this training video he demonstrates how everyday he focuses on how to make work different and challenging to remove the monotony. Any business has a system of operations that secures efficiency. His strategy actually adheres to it. He believes in strategy but a strategy to make it fresh and enjoyable each time out. To view a free online preview of Dewitt Jones training videos you can click on CarltonsTraining.com. To learn more about that company click on the link here at Carlton's Training.