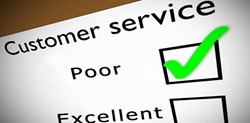 Los Angeles, CA (PRWEB) August 26, 2013
Every company should know the ways awful customer service is created so they can avoid these steps at all costs. Every year a company performs these customer-killing rituals they not only ruin their business but also create opportunities for their competition to prey upon. Carlton's Training has developed these five pitfalls or steps to avoid creating awful customer service.
Start with a poor quality product. Who cares how great everyone is if the product stinks? No one. A company has to have a product they believe in and the public will be interested in. So if an organization wants to lose its customers, put no time into creating a product they desire.
Hire unenthusiastic staff. There is nothing like a gentle eye roll or knowing glance to a fellow employee that tells the customer they wish they hadn't come in. Everyone has felt unwelcome before but one never pays to have that experience. Customer service training videos can help staff give the kind of service customers long for.
Provide poor service. Once they become a customer you don't have to ever pay attention to them. That is the only way to properly avoid a repeat customer. A customer service training video can be installed and all the groundwork and advertising can been done so they'll come in the door. So the only real way to keep them away is to show them you will not cater to their whims.
Be unprepared. When things go wrong in customer service it can be for no apparent reason. If a company has prepared for difficult customers they can help assuage poor feelings. So to keep them angry and tell every friend they know and send mass emails about the bad preparation taken for their needs, do no prep work. This will ruin a company.
Pay no attention to time. Time is important to everyone. Customers are not just spending their money but their time to patron an organization. So to really tick them off, do not take care of them right away. And if busy, they can see that. Don't give them a smile and be right with you. Let them figure it out. Great examples of how to actually provide great service can be found in the Johnny the Bagger training video.
To view any of the ideas or programs mentioned in this story feels free to click on the free online previews at CarltonsTraining.com. To learn more about this company click on the link here at Carlton's Training.