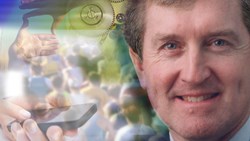 San Francisco, CA (PRWEB) September 01, 2013
Dying is hard but change is next to impossible. This may be why so many companies will perish before they are willing to change. It is the single hardest thing to do in life. After all, it is why animals and businesses go extinct. In The New Business of Paradigms, there are countless examples given that demonstrate how a business can do more than just live on. Jim Case Carlton's Training now has designed some ideas for clients looking to make the leap.
Every company needs a vision and if the vision doesn't reside in the future they might as well pack up now. If employees listed the things they dislike at work, the most it has to be changing to a new platform. And yet according to innovator and futurist Joel Barker, companies should be spending the bulk of their time doing this. And yet most spend about 10%. The rest of the time, they are not creating their future but enduring demise.
The Power of Vision Joel Barker program touches on how a vision of the future is paramount in creating it. Business strategists often know they have to carve out their destiny but getting a company to follow that plan is easier said than done. Employees are constantly trying to catch up on their work so who can blame them for not adding to it by trying to learn to do that work in a different manner?
The Joel Barker video Leadershift is instrumental in solving a lot of these issues. The program implements strategy to change through impressive leadership. The leadership skills in this training video are specifically designed to leading change. This innovative style of leadership creates opportunities to grow in a company so it brings the future to organization.
Leadershift is one component of leadership training required for change. It is indeed daunting but with change and innovation, comes systems that are more advanced that make it easier for employees. That, coupled with the fact that competition will seize the opportunities others don't, is enough motivation for any organization. To view any of the online previews for the programs mentioned here or learn more about this corporate training company, click on the link here at Jim Case Carlton's Training.