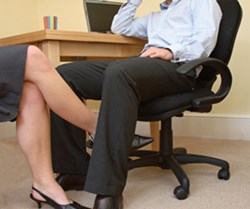 Chicago, IL (PRWEB) November 06, 2013
It affects employee morale. It costs companies over a hundred million dollars a year. And yet it is still the most prevalent subject in the media and in corporate training across the country. Sexual harassment pervades the very structure of an organization and erodes it from the inside. How does a company not just protect against it but stop it from occurring? Jim Case Carlton's Training provides a new strategy to combat this terrible corporate disease.
Since the issues end with employee lawsuits, the place to begin is with employees. They have to first have a place they can go and a person they can trust with privileged information about ongoing harassment. Most cases are filed because of repeated offenses. If employees just had a manager to discuss others' behavior before it got out of control, it could have been prevented.
The terms and guidelines of what is legally defined as harassment is very important. In a sexual harassment video the character studies can properly define what is and what is not sexual harassment. Employees then know before they cross that line what things they can say or do and what things are better left unsaid or untouched.
If sexual harassment training videos need to cover the legal definitions of what constitutes sexual harassment then it is up to employees to follow the law. Not only do these programs instruct employees how to act in given workplace situations but also the penalties for not complying with company orders. This is what alleviates organizations of the burden as they provide training for personnel.
A harassment training video like Harassment Hurts: It's Personal tackles all forms of harassment so that employees know the other areas of harassment to avoid that may not be sexual in nature. Some employees get confused and claim there was no harassment taking place, unaware their harassment simply took on a new form.
It's not just important to provide sexual harassment training to help keep employees happy and moral high but it helps the bottom line. Just one headline of sexual harassment for a company can spell big financial and employee loss. To view any of the programs listed in the story click on their links to view online previews. To learn more about this organization click on their site at Jim Case Carlton's Training.